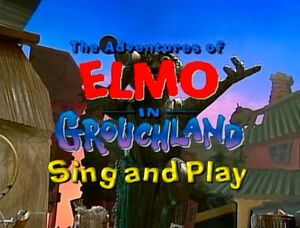 The Adventures of Elmo in Grouchland: Sing and Play is a sing-along video featuring songs from the 1999 film Elmo in Grouchland. Elmo takes a trip to Grouchland to have a sing-along with Grizzy and the Pesties. However, Grizzy doesn't like to sing.
The video features classic Sesame Street songs and three songs from the movie, with animated on-screen lyrics. The "Elmo's World: Balls" episode is also included as a bonus feature.
Segments
Image
Segment
Description

FRAME 1
Elmo greets the viewer from Grouchland, where he's gone to visit his friend Grizzy. Elmo recounts his first trip to Grouchland, and how Grizzy helped him get his blanket back. Grizzy tries to hush Elmo from using words like "friend," fearing that other Grouches might be listening. She also balks at Elmo's claim that she's not as grouchy as she thinks she is, reminding him of the grouchy welcome he received when he first arrived.

Song
"Welcome to Grouchland"
from Elmo in Grouchland

FRAME 2
Elmo is reminded of something people like to do on Sesame Street—sing! Elmo proceeds to sing "Sing," much to the chagrin of Grizzy and some Grouch bystanders. A trio of Pesties come in on the chorus, replacing the usual "la las" with "nyah nyahs." Grizzy asks Elmo if he knows any really trashy songs. Elmo knows one from Oscar.

Insert
Oscar sings "Grouches Love Trash" to Irvine.
from Episode 3638

FRAME 3
Grizzy gives her Grouch approval of the previous song, calling it one of the best, or worst, she's ever heard. Elmo asks why she didn't sing, and Grizzy says that would be cooperating, which Grouches aren't supposed to do. Elmo knows a bug song for the Pesties.

Muppets
"Night Bug Boogie"
(First: Episode 2957)

FRAME 4
Elmo says that Sesame Street has songs for everybody. Grizzy sarcastically assumes it's a place where everyone stands around and sings about themselves. Elmo points out that they also sing about things that they love, which disgusts Grizzy and the Pesties.

Song
"Together Forever"
from Elmo in Grouchland

FRAME 5
Grizzy recalls when she almost lost something she loves; her Soggypants Sandy doll. Elmo adds that his friend Ernie has a favorite toy that he loves to sing about.

Muppets
"Rubber Duckie"
(First: Episode 0136)

FRAME 6
Grizzy dismisses "Rubber Yuchy," much preferring to sing about a smelly sock or a piece of rotten fruit. Elmo thinks the letter C is something to sing about. "As in Cucamonga?" asks the yellow Pestie (named Howard).

Muppets / Celebrity
"C is for Cookie" with Marilyn Horne.
Beginning edited
(First: Episode 3189)

FRAME 7
The Pesties sing "C is for Crummy." Grizzy adds that C also stands for "cut it out!" She still refuses to sing, despite prodding from Elmo. He encourages her to "take the first step," leading to the next song.

Song
"Take the First Step"
from Elmo in Grouchland




FRAME 8
Grizzy is impressed with that plant's singing, but she still insists that she doesn't want to sing along, because then she would be cooperating. She explains how different Grouches are from other people, with visual aids provided by a few other Grouchland denizens. Elmo gets an idea and points Grizzy to the next song.

Muppets
"Elmo's Song"
Ending edited
(First: Episode 2710)

FRAME 9
Elmo asks Grizzy what she thought. Grizzy says she didn't like the song—she loved it! She and Elmo then sing it as "Grizzy's Song," and the Pesties join in with "Pesties' Song." Grizzy can't believe she's singing along and having fun. Elmo invites the viewer to come back and sing along with them. They all sing the final verse and ride away on a Grouch-driven garbage truck.

"Welcome to Grouchland" is reprised during the credits. The original VHS release ends with a voice-over from Elmo, segueing into Elmo's World: Balls.
Releases
Credits
Community content is available under
CC-BY-SA
unless otherwise noted.