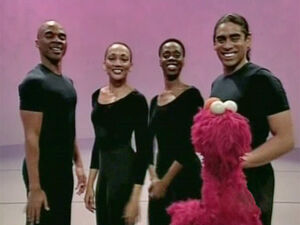 The Alvin Ailey American Dance Theater is a New York-based dance company founded by Alvin Ailey in 1958.
Clive Thompson appeared on behalf of the group in a segment on Sesame Street (EKA: Episode 0752). The dance studio was later featured in a film insert (First: Episode 1716) in which a boy takes dance lessons from them.
In 2001, members of the company made multiple appearances on Sesame Street. The performers used dance to demonstrate various concepts but also to show that dance is a form of expression available to everyone. They demonstrated same and different (First: Episode 3945), displayed emotions through dance for Elmo (First: Episode 3947), and danced with children to classical music (First: Episode 3948).
References
External links