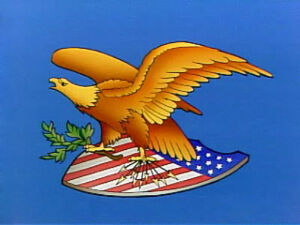 The American Revolution is a series of sketches on Sesame Street for Season 18 about the political upheaval that took place in America during the last quarter of the 1700s. They are perhaps best described by the segments' narrator, Martin P. Robinson:
Additionally, a similar Sesame Street News Flash sketch was produced during the 18th season about the Boston Tea Party along with a version of "The People in Your Neighborhood" about the people in George Washington's neighborhood.
Sketches
The National Bird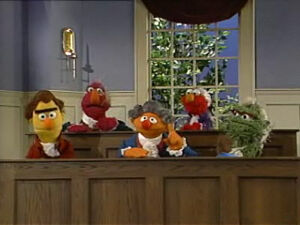 The founding fathers argue over what bird should be chosen as the national bird.
Cast
The segment was shot on January 27, 1987 and directed by Jon Stone.[1]
Releases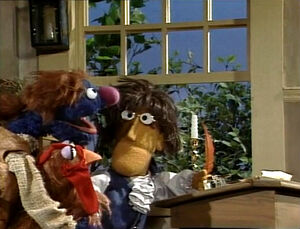 Thomas Jefferson has trouble getting a replacement quill to finish the Declaration when Mr. Grover misinterprets what he needs, bringing a drill, and a chicken named Phil.
Cast
Grover as Mr. Grover
Phil (a chicken)
Releases
It's Christmas Eve, 1776. George Washington and his men are preparing to cross the Delaware river, when Grover shows up with a bundle of balloons, noisemakers and streamers, since he heard this is the day they planned to "surprise the British." Washington explains that the colonists are fed up with the British always telling them what to do, and that his team intends to create their own country, and cross the Delaware to surprise the British in a different way: since it's Christmas Eve, the British have the day off, so they won't be expecting an attack. The river-borne patriots briefly pose for a famous painting, which Grover wanted to be a part of, but he literally "missed the boat."
Cast
Releases
Videos
Sources
See also