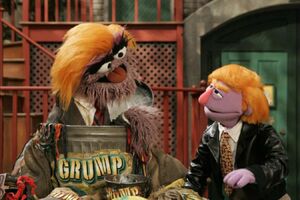 The Apprentice is a reality television series which debuted in 2004 on NBC. On the series, contestants compete to become an apprentice to Donald Trump. The series was developed by Mark Burnett, the producer responsible for Survivor.
On episode 4104 of Sesame Street, the series is spoof when Donald Grump appears and announces that he is looking for a Grouch apprentice to help sort through his trash. Contestants are let go with a take on Trump's famous catchphrase, "Scram, you're fired!" Omagrossa and Swampy and two of the contestants on this episode, each based on contestants from the series.
In 2005, the show premiered a commercial for Dove featuring Miss Piggy, after it had just featured a contest to create a commercial for the same product under the same guidelines.
The April 15, 2012 episode of Celebrity Apprentice featured contestants working with Jim Henson's Creature Shop to create puppets and perform improv comedy sketches for the Stuffed and Unstrung stage show. The episode featured appearances by Brian Henson, Patrick Bristow, Tyler Bunch, Leslie Carrara-Rudolph, Victor Yerrid, and Colleen Smith. Contestants included Penn Gillette and Arsenio Hall.
The first executive producer of Nigeria's Sesame Square was Yemisi Ilo, who had previously been a crew member of the continent's Mark Burnett co-production The Apprentice Africa.
Connections
External links
Community content is available under
CC-BY-SA
unless otherwise noted.