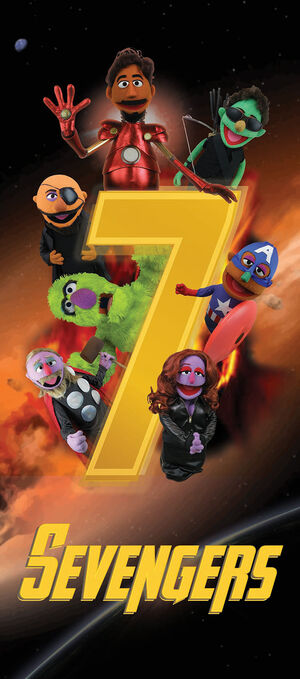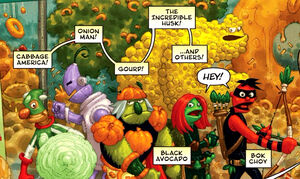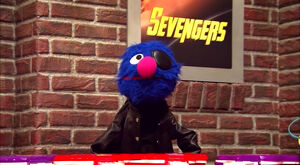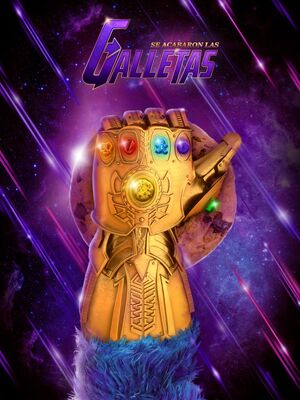 The Avengers is a comic book series from Marvel Comics that launched in 1963. The series stars many Marvel heroes, including Iron Man, Thor and the Incredible Hulk, as a part of a unique superhero team.
The comic books spawned off into several animated series and direct-to-video productions. The series was most notably turned into a film franchise in 2012 with The Avengers, followed by Avengers: Age of Ultron in 2015, Avengers: Infinity War in 2018 and Avengers: Endgame in 2019. This particular iteration of the group has since been referenced a number of times by the Muppets.
References
Elmo's Super Numbers features a scene at Numeric-Con, with a booth for "The Sevengers" (including a poster showing the seven members). Grover cosplays as "Six Fury."
An edition of "Cookie's Crumby Pictures" spoofs The Avengers film series in Episode 4525. Titled "Aveggies: Age of Bon Bon," the sketch parodies the climatic fight scene from the first film. The team members include Onion Man, The Mighty Corn, Black Bean Window, Captain Ameri-cauliflower, Zucchin-eye and Cookie Monster as "Dr. Brownie," who turns into a large Hulk-esque monster to eat Bon Bon's cookie ship.
Issue #4 of the Sesame Street comic book features a spoof story entitled "The Avegetables." Captain Vegetable, upon seeing a plague of "sometime foods" attacking the city, calls in help from a superhero team. Due to the cancellation of "Spandex Guy" and "Ladybug-Man," Captain Vegetable resorts to a sextet of lesser-known heroes - Cabbage America, Onion Man, Gourd, The Incredible Husk, Black Avacado and Bok Choy. When the day is saved, Captain Vegetable takes credit (for making the initiating phone call), while the other heroes agree to a "Standard Six Sequel" movie contract.
The Twitter account for Sésamo tweeted a parody poster of the fourth Avengers movie on April 25, 2019 titled "The Cookies Are Over". The accompanying post reads "Finally our friend Cookie Monster found the cookies of infinity. Do you think that if you snap your fingers, you can show all your friends and share them? [1]
Connections
Community content is available under
CC-BY-SA
unless otherwise noted.