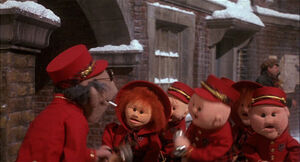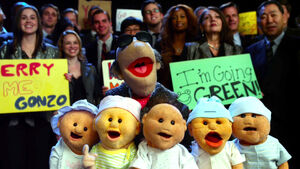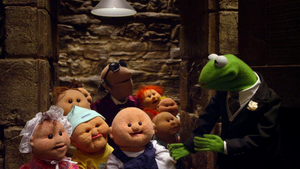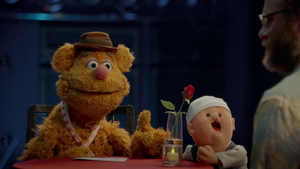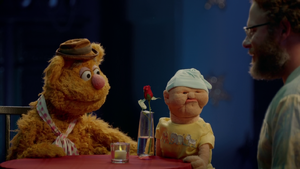 The Babies first appeared in The Muppet Show episode 308, playing Loretta Lynn's rambunctious brood in a musical number.
In episode 319, they performed "Pennsylvania 6-5000" and "Tuxedo Junction" as "Bobby Benson's Baby Band". In the same episode, one of the Babies was revealed to be Statler's grandson.
The Babies sang "Deep in the Heart of Texas" with Dale Evans in episode 322.
One of the Babies appeared in a musical number with Crystal Gayle in episode 402, tagging along as she ran away down "River Road."
Bobby was arrested in episode 405, and he left the Babies in the care of Miss Piggy, who tried to prove to Kermit that she would make a good mother. The Babies tore up Miss Piggy's dressing room, and drove her crazy. They also performed onstage in that episode, playing Tchaikovsky's Piano Concerto No. 1 with Victor Borge. Bobby returned at the end of the episode to take charge of the Babies again.
In a sketch in episode 510, Jean-Pierre Rampal played the Pied Piper of Hamelin, hired by rats to rid their town of the mischievous Babies.
"Bobby Benson's Baby Band" also performed "Baby Driver" in episode 511, while speeding in a baby carriage.
Two Babies compete in the dance marathon in episode 515. Carol Burnett encourages them to dance faster, until they fall over from exhaustion.
The Babies have also made cameo appearances in The Muppet Movie, The Muppets Take Manhattan, The Muppet Christmas Carol and The Muppets. One of them appears in a fantasy sequence in The Muppet Show Comic Book: Family Reunion part 4, under the name "Dimples McSquirt", a master tapioca thief wanted in three continents.
The babies play a featured role in Muppets Most Wanted, where Constantine and Dominic use them to help steal the Crown Jewels. Their performers included Bill Barretta, (the lead), David Rudman, Dave Goelz, Eric Jacobson, Peter Linz, Matt Vogel, Warrick Brownlow-Pike, Andrew Spooner, Olly Taylor, and Andy Heath.[1]
Filmography
Book Appearances
Sources
See also