PERFORMER
various
DEBUT
1996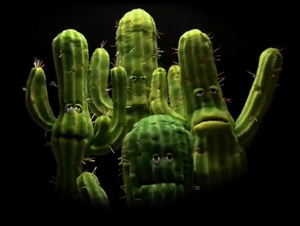 The Barbershop Cactus Quartet are a Barbershop quartet that appear in episode 102 of Muppets Tonight. Clifford has promised them that they'd be performing with Garth Brooks, and Rizzo had scheduled them to do so to the song "Papa Loves Mama." However, Brooks has made his own agenda for the show, and the cacti find themselves arguing with The Longhorn Cheddar Cheeses as to who gets to go on with Brooks and when. Ultimately, neither group has the pleasure of appearing with the country singer, the cactus group never singing a note beyond their brief warm-up backstage. One of the cacti joined Garth and the other Muppets in singing "We Shall Be Free."
One of the cacti initially appeared in the series premiere in the opening scene. The cacti also appear, out of their Barbershop Singer outfits in the Muppet viral video "Bohemian Rhapsody."
The cacti appear in The Muppets, as well as the poster. One member appears briefly during Muppets Most Wanted. Three of the cacti participated in the a capella cover video of "The Muppet Show Theme."
The cacti appeared live at The Muppets Take the Bowl, singing "On the Road Again" with Bobby Moynihan and Walter where they were performed by Mike Quinn, Bruce Lanoil, Carmen Osbahr, and Alice Dinnean.[1] One cacti participated in the "Rainbow Connection" performance at the end of the show.
Sources
↑

Facebook post by Mike Quinn
See also