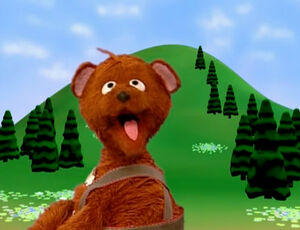 "The Bear Went Over the Mountain" is a classic children's song sung to the tune of "For He's a Jolly Good Fellow". Bert and Ernie sang the song as part of a medley on the album Sesame Street Sing-Along! The song is also included on the album Kids' Favorite Songs 2 (sung by Baby Bear and Bob), as well as its video counterpart (sung here by The Kids). The video version also features Baby Bear, wearing lederhosen and walking up a CGI mountain only to find another mountain on the other side.
Releases
Audio (Bert and Ernie's medley)
Audio (Bob and Baby Bear)
Video
Community content is available under
CC-BY-SA
unless otherwise noted.