PERFORMER
various
DEBUT
1981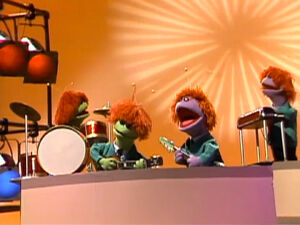 The Beetles are a group of four musical insects who sing the Sesame Street songs "Letter B," "Thinking of U," "Hey Food" and "There's a Lot of Different Ways to Get to School."
The lead singer was usually performed by Richard Hunt. In "Hey Food," Christopher Cerf voices another lead singer. Sesame Road identifies the other band performers as Paul Jacobs and Jonathan Cerf (though in "Thinking of U," the drummer was also performed by Hunt).
The puppets are made from Lavender and Green Anything Muppets. As a concept, they are a nod to the rock band The Beatles.
Just like the real Beatles, the audience for their performances was often full of wild, screaming fans.
See also
Bug Band, a group of beetles who sing a song by The Beatles