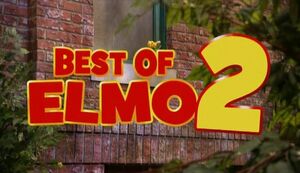 The Best of Elmo 2 is a Sesame Street video released in 2010. The video is a sequel to the 1994 video compilation The Best of Elmo.
In the video, Elmo encounters a "Memorybot" who is losing his power and needs "memories" to power up again. Elmo shares his memories with the robot with a series of clips. Segments feature guest stars Jason Mraz, Adam Sandler, Destiny's Child, David Beckham, India.Arie, The Goo Goo Dolls, and Feist.
Segments
Picture
Segment
Description




FRAME 1
Elmo walks down Sesame Street, when he finds a robot and asks it to play. However, the robot is unable to move because he's low on energy. The robot reveals he's Memorybot and runs on memories, but now has an insufficient amount. He gladly helps and learns how to work him: think of a memory, then push the button and the memory will appear on his screen. He thinks of a memory and watches...

Muppets / Celebrity
Jason Mraz sings about being "Outdoors" with Elmo, Abby, Rosita, Baby Bear, Big Bird and the kids.
(First: Episode 4202)

Muppets
Elmo sings "Elmo's Ridin'" as his dad watches him riding his tricycle through the park. Kids join him on their scooters, and a squirrel tries to catch up with them.
(First: Episode 4160)

FRAME 2
The Memorybot's energy meter shows an increase in power, but he still needs more. Elmo tells him he can count on him to help, so the Memory jumps on Elmo and begins counting. Elmo has him get off and shares some numerical memories.

Muppets / Celebrity
Feist performs a spoof of her song "1234" as various Muppets help her count.
(First: Episode 4161)

Muppets / Celebrity
Elmo sings Diane Sawyer a song about adding one and two. Zoe wants to sing the song too, so they change it. Soon enough, a large group of friends wants to sing with them.
(First: Episode 4045)

Muppets
Elmo performs "Elmo's Ducks" as his ducks are subtracted one by one.
(First: Episode 4180)
Last verse re-dubbed

FRAME 3
The memories provide Memorybot with some more power, but still not enough. Elmo says they should hop to it and the Memorybot begins hopping. Elmo calls him silly, which isn't in Memorybot's internal vocabulary. Elmo recalls some silly songs to help him.

Muppets
Elmo sings a happy "Be Doodle Dee Dum" with help on the chorus from Zoe, Telly Monster, a Honker, and Baby Bear. He explains that the silly song can be sung anywhere and will help cheer up the singer. Mama Bear, Papa Bear, Ernie, Bert and Rosita also make brief cameos.
(First: Episode 3613)




Muppets
Destiny's Child performs "A New Way to Walk" with Grover, Elmo and Zoe.
(First: Episode 3984)

FRAME 4
Elmo enjoyed watching the memory so much that he begins making up another new walk, while the Memorybot joins him. The lyric about "pride" confuses him, since he doesn't know the meaning of that word as well. Elmo gives him some more visual aids to help him.

Muppets / Celebrity
Elmo encounters Ray Charles playing the piano, and learns that he uses his fingers to read the lyrics. Ray sings and plays "Believe in Yourself."
(First: Episode 3473)
Edited, Elmo's singing vocals re-dubbed

Muppets / Celebrity
David Beckham explains the word persistent while Elmo repeatedly asks to play with him.
(First: Episode 4168)
Music muted

Muppets / Celebrity
The Goo Goo Dolls and Elmo sing "Slide (Pride)," which celebrates Elmo's achievements of tasks like dressing himself.
(First: Episode 3871)

FRAME 5
Elmo tells Memorybot that saying the alphabet fills him with pride, but the Memorybot doesn't know what the alphabet is. Elmo shares yet another helpful memory.

Muppets / Celebrity
India.Arie and Elmo sing The Alphabet Song.
(First: Episode 4100)
Edited

FRAME 6
Elmo pretends he's the letter Y, but the Memorybot doesn't know what it means to pretend. Elmo points his direction to his screen.

Muppets
Elmo sings about the "Planets, Moon and Stars."
(First: Episode 3782)

Celebrity / Muppets
Jack Black wears various disguises to fool Elmo, but he sees through them each time, until he meets a chicken with Jack's facial hair.
(First: Episode 4173)

FRAME 7
The Memorybot almost fools Elmo with a disguise of his own, but Elmo knows the trick. He then remarks he can't wait to tell his friends about the Memorybot, when the robot asks what "friends" are. Elmo shows him a memory of one of his friends.

Muppets / Celebrity
Adam Sandler makes up a "Song About Elmo" using clever rhyming cheats.
(First: Episode 4200)

FRAME 8
The Memorybot is now full of power and celebrates by dancing. Elmo joins him and they sing "Do the Robot."

FRAME 8 cont'd
After the song, a man comes by, relieved he's found the Memorybot. He reveals himself to be Dr. Sigmund Sillystuff, the creator of the Memorybot, and explains he made it to help him with his own bad memory. He then makes an astonishing discovery: the Memorybot's experiences today have given him his own memories, which means he can never run out of power. They all begin to dance the robot dance.
Releases
Cast
Starring The Muppets of Sesame Street:
Credits
Executive Producer: Carol-Lynn Parente
Co-Executive Producer: Kevin Clash
Coordinating Producer: April Chadderdon
Senior Producer: Melissa Dino
Line Producer: Stephanie Longardo
Producer: Tim Carter, Benjamin Lehmann
Special Material for Home Video Directed by Kevin Clash
Special Material for Home Video Written by Christine Ferraro, Syndi Shumer
Music Director: Loren Toolajian
Vocal Coach: Paul Rudolph
Composers: Leslie Feist, Jeffrey Moss, Jason Mraz, Mark Radice, Kathryn Raio, Joe Raposo, JP Rende, Mike Renzi, John Rzeznik, Sally Seltmann
Lyricists: Christopher Cerf, Jeffrey Moss, Mark Radice, Joe Raposo, Mark Saltzman
Senior Muppet Consultant: Kevin Clash
Assistant Muppet Captain: Matt Vogel
Jim Henson's Creature Shop: Jason Weber, Connie Peterson, Rollie Krewson, Michelle Hickey, Chelsea Carter, Molly Light, Alana Dematteo
Production Designer: Victor DiNapoli
Associate Director: Ken Diego
Second AD: Benjamin Lehmann
Associate Producers: Theresa Thompson, Mindy Fila, Todd E. James
Sound Effects: Dick Maitland, C.A.S.
Title Card Created by Rickey Boyd
Technical Directors: Tom Guadarrama
Cameras: Frank Biondo, Shaun Harkins, Aaron Medick
Utility: Chuck Tutino, Gordon Price, Keith Guadarrama
Assistant to the Executive Producers: Geri Cole
DVD Production: Frank Campagna, Franco Schettino
For Sesame Workshop: Taska Carrigan, Fay Corinotis, Helen Cuesta, Alicia Durand, Jocelyn Leong, Sharon Lyew, Mark Magner, Louis Henry Mitchell, Kimi Sokol
Vice President of Education and Research: Rosemarie T. Truglio, Ph.D.
Sesame Street Education and Research Team: Takiema Bunche Smith, M.S. Ed., Autumn P. Zitani Stefano, M.A., Jennifer R. Schiffman, M.S. Ed.
Taped at Kaufman Astoria Studios
See also