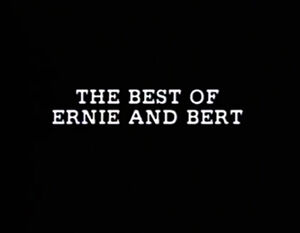 The Best of Ernie and Bert is a 1988 direct-to-video Sesame Street compilation, collecting sketches starring Ernie and Bert.
The framing sequence involves Gina and Big Bird babysitting Ernie's cousin Ernestine, while they go through Ernie and Bert's photo album.
Segments
| Image | Earliest Known Appearance | Segment |
| --- | --- | --- |
| | Framing material | Gina babysits Ernestine with help from Big Bird. |
| | Episode 0538 | Ernie and Bert go to the movies, where the lady who sits in front of Ernie wears a hat so tall that it blocks his vision. |
| | Episode 2029 | Ernie and Bert go camping. (Beginning edited) |
| | Episode 0137 | Ernie calls a doctor over. The doctor checks up on Ernie, not letting Ernie explain why he had called him over until after the doctor sees that Ernie is fine and asks why he called him over. |
| | Episode 1910 | "I Don't Want to Live on the Moon" |
| | Episode 1621 | Ernie and Bert explore an Egyptian pyramid. Bert enjoys the place but Ernie is afraid. They see statues that look like them. Bert then explores a tunnel while Ernie stays and looks at the statues. Whenever Bert isn't around, the statue who resembles Ernie taps, talks to, and dances with Ernie. |
| | Episode 0366 | "The National Association of W Lovers" |
| | Episode 1227 | Bert teaches Bernice the pigeon how to play checkers. |
| | Episode 2073 | "That's What Friends are For" |
Releases
Notes
Cast
Credits
Executive Producer: Jon Stone
Producer: Sonia Rosario
Written and Directed by: Jon Stone
Segment Writers: Judy Freudberg, Tony Geiss, Jerry Juhl, Emily Kingsley, Jeff Moss
Segment Directors: Jim Henson, David Heeley, Lisa Simon
Songs by: Dave Conner, Tony Geiss, Jeff Moss, Sam Pottle, Joe Raposo
See also
Community content is available under
CC-BY-SA
unless otherwise noted.