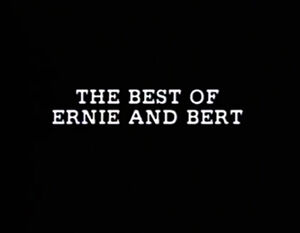 The Best of Ernie and Bert is a direct-to-video Sesame Street compilation in the My Sesame Street Home Video series, collecting sketches starring Ernie and Bert. Released on VHS in 1988, this was the first "Best of" video from Sesame Street to focus on specific characters.
The framing sequence involves Gina and Big Bird babysitting Ernie's cousin Ernestine, while they go through Ernie and Bert's photo album.
Segments
Notes
Elmo and Cookie Monster are seen on the back cover of the 1998 Australia double feature of the video (with Sing Along), but are not seen in either video featured.
Elmo is seen on the cover of the Brazil book and DVD of this video, but is not featured in the video itself.
Releases
Booklet
Cast
Credits
Executive Producer: Jon Stone
Producer: Sonia Rosario
Written and Directed by: Jon Stone
Segment Writers: Judy Freudberg, Tony Geiss, Jerry Juhl, Emily Kingsley, Jeff Moss
Segment Directors: Jim Henson, David Heeley, Lisa Simon
Songs by: Dave Conner, Tony Geiss, Jeff Moss, Sam Pottle, Joe Raposo
See also
Community content is available under
CC-BY-SA
unless otherwise noted.