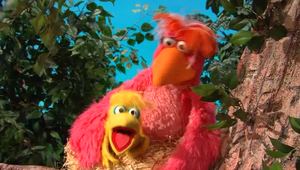 "The Bird Family" is a Sesame Street song originally from a News Flash sketch.
Kermit the Frog interviews a small bird (Fran Brill) in the park, who sings about how her mom (Camille Bonora) and dad (Jerry Nelson) live in separate trees (implying they are divorced or separated). Despite this, she knows she is loved no matter which home she is in, including her grandma's (Pam Arciero).[1]
A new version of the song was sung in Little Children, Big Challenges: Divorce by Birdie (John Tartaglia) along with his bird parents (Leslie Carrara-Rudolph and Kevin Clash), and Abby Cadabby.
Notes
Taped on November 21, 1989, this was the last News Flash segment produced to feature Jim Henson as Kermit.[1] The last one that aired was "Mumford's Big and Small Trick". (First: Episode 2696)
Releases
Online
Sources
See also