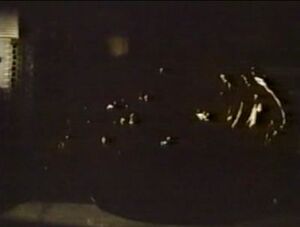 The Blob is a 1958 science-fiction/horror film, in which a gelatinous mass from outer space lands on earth and begins consuming people (increasing in size all the time). A delayed sequel, Beware! The Blob, came out in 1972, later followed by the 1988 remake The Blob.
References
In the fourth season Muppet Babies episode "Invasion of the Muppet Snackers," Gonzo fears the blob of slop dropped by Nanny could eat them. Clips from 1958's The Blob (including shots of a panicked crowd fleeing the movie theater, and of the blob entering a diner) are used to represent "Nanny's slop."
In Muppet Magazine issue 4 (1983), for Halloween, The Blob was one of many classic monsters included in a Mondo Muppet quiz.
Connections
Community content is available under
CC-BY-SA
unless otherwise noted.