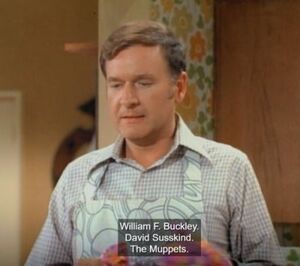 The Bob Newhart Show is a sitcom which ran from 1972 to 1978. It starred Bob Newhart as psychologist Dr. Bob Hartley, focusing on his home and office life as well as his many neurotic patients.
Newhart's second sitcom, Newhart (1982-1990), was not a direct spin-off (recasting Newhart as Vermont innkeeper Dick Loudon). But the series' famous finale revealed that the entire run of Newhart was actually a dream by Dr. Hartley (shown on his old set with wife Emily).
Muppet Mentions
The second season The Bob Newhart Show episode "The Last TV Show" (1973) deals with Bob and his group appearing on a public television show. Neighbor Howard Borden says, "Oh, I love public television. They have such interesting people on: William F. Buckley, David Susskind, The Muppets."
In the Newhart episode "Dick the Kid" (1986), Dick Loudon spends a week at a Western ranch. On video night, while the other residents want to watch High Noon, a tough resident wants to watch The Muppets Take Manhattan, and he almost gets his way until Dick takes a stand for the others: "I got a problem with The Muppets Take Manhattan... Not as a film. It's a delightful romp with strong production values."
Connections
The Bob Newhart Show
Newhart
Community content is available under
CC-BY-SA
unless otherwise noted.