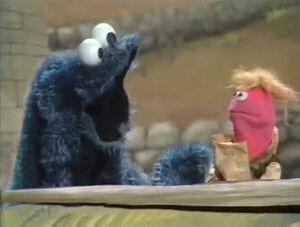 "The Boy Who Cried Monster" is a Sesame Street story read by Maria. (First: Episode 0412) It is an adaptation of one of Aesop's Fables, "The Boy Who Cried Wolf."
In the story, the citizens of a quiet, little village are worried about a monster who has constantly been stealing cookies. They plan to outwit him by yelling "monster!" when he arrives to signal the others to come and help. One young Anything Muppet boy can't resist tricking his neighbors by shouting "monster!" when there isn't one. After doing this twice, the villagers vow not to be fooled a third time. While the boy ponders whether or not to try it anyway, he suddenly finds himself face to face with the monster. The boy tries to summon his fellow villagers for help, but they assume he's lying again and don't come out. The monster then proceeds to devour the boy's bag of cookies, as the boy woefully regrets playing his trick on everyone. Afterward, the boy was never quite so mischievous again.
Fran Brill performs the lead Purple AM villager who addresses the others. Jerry Nelson plays the troublemaking Hot Pink AM boy. The other AM villagers are performed by Nelson, Jim Henson, Frank Oz, and Richard Hunt.