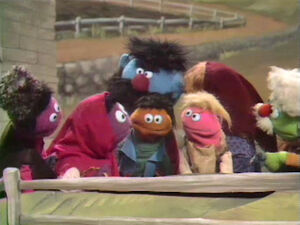 "The Boy Who Cried Monster" is a Sesame Street story read by Maria. (First: Episode 0412) In the story, local villagers are worried about a monster who is constantly stealing cookies from the local villagers. They make plans to outwit the monster by yelling "monster!" when they see him and signaling the others to come running to help. One young Anything Muppet boy can't resist tricking his neighbors by shouting "monster!" when there isn't one. After doing this twice, the villagers vow not to be fooled a third time. While the boy is pondering whether or not to try it anyway, he suddenly finds himself face to face with the monster (Guess Who!). He tries to summon his fellow villagers for help, but none of them will come, assuming he's lying again. The monster then proceeds to eat the boy's box of cookies, teaching him a very important lesson: nobody believes a liar.
Performers
Community content is available under
CC-BY-SA
unless otherwise noted.