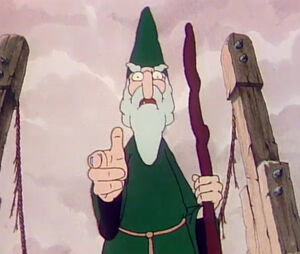 The Bridgekeeper was a character who appeared in a series of three animated sketches on Sesame Street beginning in season 12.
He was a tall, thin, wizard-like man with a long white beard, green robes with a matching cone-shaped hat, and possessed of a rather solemn disposition. In all of his appearances, he held a long wooden staff. He was known for almost always talking in rhyme, and a thunderclap would pierce the air whenever the Bridgekeeper would introduce himself.
Gahan Wilson was responsible for these segments.[1] The Bridgekeeper was voiced by John Russell.[2]
Telly can be seen with him during the credits of Sesame Street's 50th Anniversary Celebration.

Sketches
Picture
Shape / First Appearance
Description

Triangle

---

Episode 1572
A young bespectacled man with an accordion (voiced by William Keene) asks "do you work here?" The Bridgekeeper responds "WORK HERE? I AM THE BRIDGEKEEPER!" (followed by a clap of thunder). The man with the accordion asks how much it costs to cross the bridge. The bridgekeeper says admission is free, but requires that the young man show him three triangles. Two of them are found in the bridgework, and the man uses the bridgekeeper's staff to draw a third triangle in the dirt. Although the bridgekeeper has his order filled, he asks the man to play a tune on his accordion. This additional request takes the young man by surprise, but he is told to do so for the opportunity to cross the bridge.

Circle

---

Episode 1582
A young man carrying a brown paper bag walks up to the bridgekeeper and asks him if he is "The Bridgekeeper." The bridgekeeper responds with: "YES, I AM THE BRIDGEKEEPER!" (followed by a clap of thunder). He orders the young man to show him whatever circles are in the bag, and to eat them. The young man is ordered to eat three round foodstuffs: a cookie, a pepperoni pizza, and a slice of watermelon. Once the young man is granted permission to cross the bridge, however, he tells the bridgekeeper that he was merely trying to deliver the latter's groceries.

Square

---

Episode 1618
The Bridgekeeper stipulates that answering three questions about the square in his hand is required to cross the bridge. Question One: What is this? Question Two: How many sides does it have? Question Three: What is a square good for? A young man who wishes to cross the bridge has a square-shaped building block in his backpack. And a girl thinks a square makes a good picture frame. Then along hops a light blue-colored monster with a red winter cap, who proceeds to eat the bridgekeeper's square, the better to satisfy his daily diet of "three square meals."
Sources