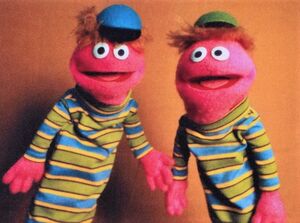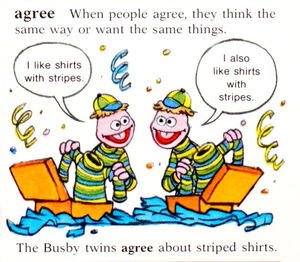 The Busby Twins (Joe and Moe) are twin boys who appeared on Sesame Street in the 1970s. The twins were known for sharing everything, including their conversations, speaking one word or syllable at a time. They frequently confused the neighborhood shopkeeper with their requests, until he put both syllables together to form an understandable word. Their departing salutation would likewise be divided (e.g. "Good..." "Bye!")
On the show, Joe's cap was green while Moe wore blue (though in illustrations, they were often clothed completely identically). Though their tenure on the show was brief, they continued to appear in books and merchandise through the 1980s.
Sketches
Book appearances
Community content is available under
CC-BY-SA
unless otherwise noted.