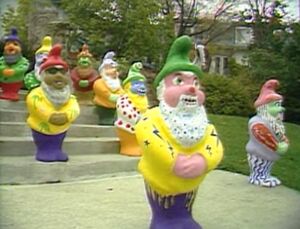 The Captain's Inn is a bed-and-breakfast located in Outer Space on Fraggle Rock. Doc has a part-time job as manager of at the inn, where he works with Ms. Ardath. The Captain's Inn is first mentioned in the episode "A Cave of One's Own," when it opens for business in Doc's neighborhood. Doc is hired by Ms. Ardath in the episode "Doozer Is As Doozer Does."
Though Doc refers to it a number of times, the Captain's Inn is only seen onscreen once. In "Uncle Matt's Discovery," Doc and Sprocket have repainted Ms. Ardath's lawn gnomes, and the Captain's Inn garden and steps are revealed, with a brief glimpse of the building behind them.
Episodes where the Captain's Inn is mentioned include the following:
Name
In Uncle Matt's postcard in "Doozer Is As Doozer Does," a bus displays an ad for "The Captain's House," promoting the establishment as coming soon. By the next mention, however, in "The Bells of Fraggle Rock," the bed and breakfast was and would remain consistently "The Captain's Inn."
Community content is available under
CC-BY-SA
unless otherwise noted.