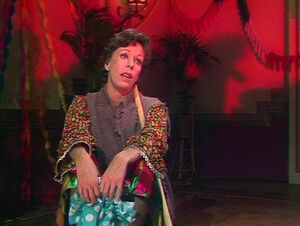 The Carol Burnett Show is a sketch comedy TV series that ran from 1967 to 1978 on CBS. It starred Carol Burnett, along with regular performers Harvey Korman, Vicki Lawrence, Tim Conway, Lyle Waggoner, and Dick van Dyke.
Carol Burnett's signature character, the Charwoman, was featured on the show as a cartoon character in the opening credits, as well as in many skits and songs over the years. Burnett also performed this character during her appearance on The Muppet Show.
One of the show's long-running sketches "The Family" (with Burnett, Lawrence, and Korman as squabbling relatives) led to the sitcom Mama's Family (with Burnett and Korman as recurring guests in the early seasons and Korman hosting as an Alistair Cooke take-off).
Muppet Mentions
In a sketch from 10/26/70, Carol and Bernadette Peters are in a bridal shop, discussing their boyfriends. Carol: "My boyfriend doesn't even understand Sesame Street."
In a sketch from 11/30/70, Carol and Debbie Reynolds are trying to film a coffee commercial, and one of them says she has to go because she has to watch Sesame Street.
In a sketch from 11/24/71, called "Ironstreet & Wife", a cop is trying to explain something to the criminal over and over, and somebody says, "What is this, Sesame Street?"
In a sketch from the 1971-1972 season, Paul Lynde plays a criminal talking about his career counterfeiting money: "I learned it on Sesame Street."
Connections
Regular Cast and Crew
Guest Stars
Community content is available under
CC-BY-SA
unless otherwise noted.