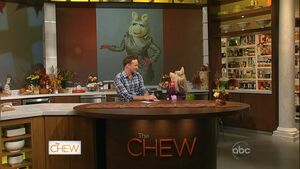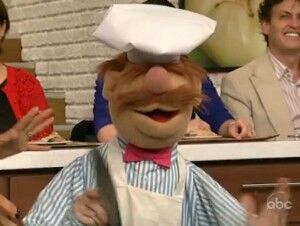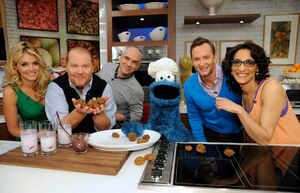 The Chew is a cooking program which aired on ABC from 2011 to 2018. It replaced the long-running soap opera All My Children. The series hosts included Michael Symon, Carla Hall, Clinton Kelly and Daphne Oz. The Muppets have made several appearances on the show.
Appearances
November 23, 2011 ("Ultimate Thanksgiving") -- Kermit the Frog, Miss Piggy and The Swedish Chef appear to help cook some Thanksgiving recipes. Piggy reflects with Clinton Kelly on her most memorable outfits. At the end of the episode, after the hosts discuss what they're thankful for, an orange Whatnot (filling in for chef Mario Batali) appears to add his thoughts.
April 2, 2012 ("Perfect Pairings") -- Cookie Monster appears to promote Big Elmo Fun. He joins Mario Batali to make "no-bake chocolate cookies."
September 20, 2012 ("How to Grill Like a Pro") -- Elmo appears to help Mario Batali make "Broccoli Rabe Pesto."
October 23, 2012 -- Cookie Monster dresses as "Cookie Batali" ("as a human") for Halloween, and helps bake Halloween treats with Mario Batali.
December 3, 2012 -- Kermit tries a bite of one of Mario Batali's Christmas Calzones, plugs The Muppet Christmas Carol Blu-ray release, and plays a round of "Celebrity Egg Timer."
November 7, 2017 - Cookie Monster appeared to promote season 48 of Sesame Street, along with his new cooking segment. He assists Mario Batali in making cookies.