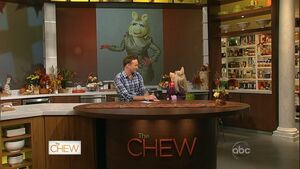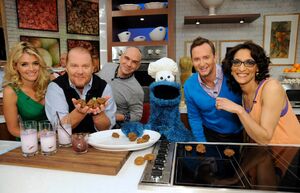 The Chew is a cooking program, which has aired weekdays on ABC since 2011. It replaced longtime soap opera All My Children. The series hosts are Michael Symon, Carla Hall, Clinton Kelly and Daphne Oz.
An episode titled "Ultimate Thanksgiving" debuted on Wednesday, November 23. According to a press release:
"

Muppets Kermit, Miss Piggy and The Swedish Chef cook up some delicious holiday dishes; Clinton Kelly joins Miss Piggy for a look back at some of her most memorable fashion do's and don'ts; a gallery of Thanksgiving turkey recipes.

"
At the end of the episode, the hosts discussed what they were thankful for. An orange Whatnot made at the Muppet Whatnot Workshop appeared at the very end.
Cookie Monster appeared in the April 2, 2012 episode titled "Perfect Pairings" to promote Big Elmo Fun. He joined Chef Mario Batali to make "no-bake chocolate cookies."
Elmo will appear on the show on September 21, 2012 to promote the 43rd season of Sesame Street.
External links