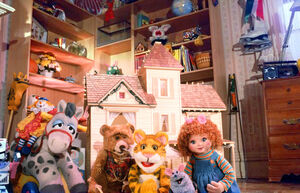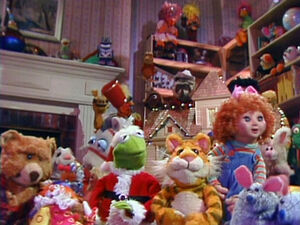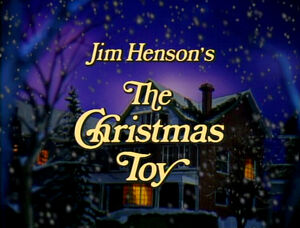 The Christmas Toy aired on ABC on December 6, 1986. It was later adapted into a storybook in 1987.
In this one-hour Christmas special, Christmas Eve is celebrated at the Jones' home, where the toys in the playroom magically come to life when people are not around.
Following an introduction by Kermit the Frog, who provides a glimpse into the Jones' household as the family makes holiday preparations, the toys talk about the meaning of Christmas and how they will prepare to welcome the new toys that will be given to the Jones children, Jamie and Jesse.
Rugby Tiger, who was Jamie's Christmas present the previous year, remembers that special day, and decides to find a way into a gift box under the tree again this year. But the other toys are worried that he will become "frozen" once he leaves the playroom, and they devise a plan to rescue him.
The special spawned the 1994 spin-off series The Secret Life of Toys.
Songs
Cast
Credits
Edits
When this special was released on VHS in 1993, the opening sequence (before the main titles) was cut.
Re-airings and releases of the special remove part of the opening credits, reading "Kraft Presents."
Kermit's scenes are cut from the 2008 DVD, as well as broadcasts on The Hub and streaming on Netflix. The 2019 Amazon Prime release, remastered in high-definition, reinstates Kermit's scenes.
See also
Community content is available under
CC-BY-SA
unless otherwise noted.