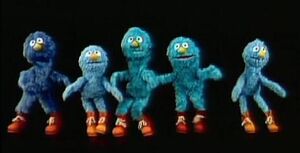 The Clodhoppers were a group of dancing blue monsters, who danced with Valerie Harper in episode 120 of The Muppet Show. One performer was required for each of the full-figured puppets. The Clodhopper's feet were attached to the performers' feet, while their heads and hands were the performer's hands. The puppeteers were dressed in black to hide themselves against the black background.
The Clodhoppers also appeared as a Dixieland band in episode 324. Three members of the group danced with Paula Abdul as she sung "Opposites Attract" in episode 206 of Muppets Tonight.
The Clodhoppers were designed by Jim Henson in 1972 for a Broadway show which was never developed. They first appeared on the TV special Julie Andrews: My Favorite Things in 1975, where they were identified as the Klunks. Many years later, in 1993, they finally appeared live on stage in London in front of the Royal family for the Royal Variety Performance.
Community content is available under
CC-BY-SA
unless otherwise noted.