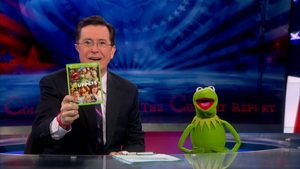 The Colbert Report is a spin-off of Comedy Central's The Daily Show hosted by Stephen Colbert that aired on Comedy Central from October 2005 to December 2014. The show was a satirical spin on the conservative political punditry found on many 24-hour news channels such as Fox News' The O'Reilly Factor.
Appearances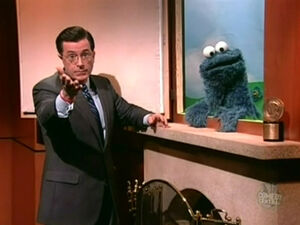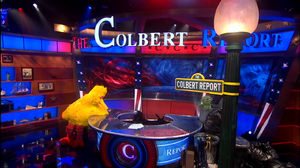 In a June 19, 2008 report that fruit has dethroned cookies as childrens' favorite snack food, Colbert blames Cookie Monster's abandonment of cookies and newfound love of fruit. After a montage of clips from Sesame Street as evidence to support the claim, Cookie Monster himself appears to explain to Colbert that he has not abandoned cookies, but rather learned to eat them as part of a balanced diet. Although he had many cookie-related episodes in the '70s and '80s ("Me like the Robert Downey, Jr. of cookies"), he explains that he always ate other food as well ("Me not picky"). Colbert argues that this showed he was against cookies and that he should wear a cookie lapel pin (a reference to Barack Obama's refusal to wear an American flag lapel pin). Cookie Monster explains that "you no have to do that" and that Colbert is a "terrible role model." Cookie Monster ends the show by eating Colbert's Peabody Award. [1] [2]
The segment was released as a bonus feature on several Comedy Central DVDs, including South Park's The Cult of Cartman,[1] Lewis Black's The Root of All Evil collection,[2] and Mind of Mencia: Season 4 - Uncensored.[3]
With the return of CNN's Crossfire, Big Bird (Caroll Spinney) and Oscar the Grouch (puppeteered by Joey Mazzarino lip-syncing to Spinney's vocals[4]) appeared on September 26th, 2013, to participate in a debate on the Letter S, only for Stephen to find that they both liked the letter and that there was really nothing to argue about. When it turns out Colbert wants them to talk trash, they sing "I Love Trash."
On the final episode on December 18, 2014, Big Bird (Matt Vogel) and Cookie Monster (David Rudman) appeared among the massive group of previous guests to sing "We'll Meet Again." Other celebrities in the ensemble included: Jon Stewart, Randy Newman, Willie Nelson, Tom Brokaw, Katie Couric, George Lucas, Sam Waterston, Charlie Rose, Alan Alda, Kareem Abdul-Jabbar, Bill Clinton, Michael Stipe, Patrick Stewart, Cyndi Lauper, Jeff Tweedy, Yo-Yo Ma, Keith Olbermann, Andy Cohen, Mike Huckabee, Mandy Patinkin, Neil DeGrasse Tyson, and Henry Kissinger.
References
Muppet Mentions
Picture
Episode / Description

March 31, 2006

---

In the last day of Women's History Month, Stephen introduces a segment which was to have paid tribute to women all over the world. The video opening features images of strong women in history, including a prominent spot for Miss Piggy.

April 18, 2006

---

Stephen presents his regular "Threat Down" where he lists the top 5 threats to America. The number one threat (as usual) is bears, mainly Winnie the Pooh. Stephen urges parents to keep their kids away from "this bear-friendly propaganda masked as entertainment." He continues his rant telling parents to "go into your children's room and remove anything with Fozzie Bear, the Berenstain Bears, Sugar Bear, Yogi and Boo-Boo, the Care Bears, the Snuggle Bear and, of course, Huggy Bear." A picture accompanies each name.

April 26, 2006

---

While discussing his feelings on the national anthem being sung in Spanish, Stephen shares the day's installment of "The Word," which in this case is "English." Stephen says that the pro-Spanish agenda is even targeting our children. A clip from Plaza Sésamo is played, after which Stephen states "It's called Plaza Sésamo. And I, for one, don't want to know how to get there."

June 19, 2006

---

The Daily Show concludes with a brief check-in with Colbert at The Colbert Report. Colbert's show description paid homage to The Muppet Show, including a video clip of Sam the Eagle from episode 104.

Stewart: Welcome back to the program. Before we go we're going to check in with our good friend Stephen Colbert at The Colbert Report. Stephen?

Colbert: Thanks Jon. Up next on a very special episode: space travel, sure it's possible, but for pigs? An update on Scandinavian cuisine with our in-house chef, and then our very special guest star Harry Belafonte will lead Fozzie and the gang in a chaotic, and hilarious, version of the "Banana Boat Song"...Day-O! It's so good even Statler and Waldorf will allow themselves to smile. All that plus a final off-key trumpet note from Gonzo. Jon?

Stewart: Stephen, it sounds like you have a dubious collection of guests there.

Sam Eagle: (clip from The Muppet Show) With a few exceptions, the characters on this program are weird and peculiar and not to be trusted.

Stewart: That's our show, join us tomorrow at 11. Here it is, your moment of Zen.

November 9, 2006

---

In the episode's teaser, Stephen signals the opening title sequence with "Sorry Cookie Monster, C is for Colbert. This is the Eponymous Report!"

November 11, 2006

---

In the opening of the episode, Stephen announces his interview with PBS' Jim Lehrer stating "the interview will be brought to you by Archer Daniels Midland, the letter R and viewers like you" (referring to the letter/number sponsors on Sesame Street and the underwriters who fund PBS programming).

January 27, 2007

---

The Daily Show concludes with a brief check-in with Colbert at The Colbert Report. Jon attempts to embarrass Colbert by showing a clip of Stephen as the letter Z in All Star Alphabet.

Colbert: Schumer is our guest next week. Smart move, Chuckie, saving the best for last.

Stewart: Yes, yes, you do occasionally go last. Am I right, my friend?

Colbert: What do you mean?

Stewart: Well, I was browsing the kids aisle at the video store last week and...um..

(clip from All Star Alphabet is shown)

Stewart: You know, Stephen, when I watched that I really believed you were alphabetically last.

Colbert: Yeah, you know what Z stands for, Jon - Zrevenge! I will have my zvengeance![5]

April 19, 2007

---

Colbert and guest Sean Penn partake in a "Meta-Free-Phor-All" mock game show in response to Penn's criticism of George W. Bush. In between each question, a computer seemingly randomizes the next topic as displayed on a projection screen with images shuffled by in roulette style. One of these images is Cookie Monster, remaining on screen for only a second.

April 25, 2007

---

During the installment of "The Four Horsemen of the A-pop-calypse," Colbert attacks Albert Einstein and his theory of relativity stating that "'C' does not stand for the speed of light. 'C' is for cookie, and that's good enough for me. If you have a problem with it, take it up with Professor Monster," followed by a clip of Cookie Monster singing "C is for Cookie."

July 17, 2007

---

The episode begins with Colbert's teaser of material to come later in the show. Segment subtitles shown on-screen often involve wordplay. For the forthcoming interview with ant expert Mark Moffett, the subtitle reads "The Great Moffett Caper."

July 31, 2007

---

Colbert continues his coverage of Hollywood's "wrist violence" in addendum to his own wrist injury the previous week. Included in a montage of clips are scenes from Harry Potter and The Empire Strikes Back amongst others which feature some form of wrist injury. After Colbert emerges from his hiding position, he urges viewers to write Congress about this travesty, if not for themselves, then at least for the children. A scene from The Muppets Take Manhattan follows, with the doctor twisting Kermit's wrist around to test for signs of amnesia. Colbert remarks, "Stay strong, Kermie."

August 16, 2007

---

Colbert announces himself as the winner of the 2007 Iowa Straw Poll, but concedes that Mitt Romney was actually the "numerical winner." A Sesame Street segment with Guy Smiley appears to represent Romney

January 16, 2008

---

Guy Smiley footage is again used, this time to illustrate Mitt Romney's victory during the Michigan Republican primary. On this occasion, a clip from a Beat the Time segment with Grover is used as Stephen states that "time is running out for the Romney campaign."

January 17, 2008

---

Colbert closes the show saying "Goodnight, Mr. Snuffleupagus."

---

January 28, 2008

---

Guy Smiley footage appears yet again when Colbert assumes that Mormon Thomas Monson could have "killed" Gordon B. Hinkley (due to lack of a cause of death) in order to control Mitt Romney. Colbert then claims that it would be "so easy to see Monson turn Romney into his puppet."

---

February 11, 2008

---

For perhaps the last time, Guy Smiley is seen at the end of a montage celebrating Mitt Romney's campaign for President of the United States, following news that the former Massachusetts Governor would be suspending his campaign.

February 26, 2008

---

Coverage of the Academy Awards opens with an "Oscars That Are Destroying America" graphic depicting other famous Oscars, including Oscar de la Hoya, Oscar de la Renta, and Oscar de la Grouch.

March 17, 2008

---

Samantha Power appears as a guest for her first interview since she was dismissed from Barack Obama's presidential election campaign for calling Hillary Clinton a monster. Colbert asked her to clarify what kind of monster she meant, and suggested that there's a way to make it positive: "What about a good monster, like Cookie Monster? [laughter and applause] And her campaign slogan -- I'm helping you out here! -- the campaign slogan could be 'C is for Clinton: that's good enough for me'."

March 31, 2008

---

Introducing architect Michael Reynolds: "My guest tonight builds houses out of garbage. Big deal, Oscar the Grouch has been doing that for years."

---

April 29, 2008

---

John McCain's superstitions are discussed in an article published by the Washington Times, leading to a list of some lucky items the U.S. Senator carries around with him, including a feather. According to the article, during McCain's run for the presidency in 2000, he once misplaced his feather which resulted in a panic until his wife discovered the item in one of his suits. Colbert suggests that McCain only told her it was indeed his lucky feather to cover up for having been seeing another tall blonde. A picture of Big Bird is displayed alongside Cindy McCain.

May 28, 2008

---

Colbert opens saying, "Tonight's show was brought to you by the number 1 and the letter me."

June 16, 2008

---

In memory of Tim Russert, footage is shown of Colbert's 2007 Meet the Press appearance in which Russert commented on the fact that Colbert changed his name's pronunciation from "Khol-bert" to "Khol-bear." Holding up a Bert doll, Russert comments, "On Sesame Street, there are two characters, Ernie and..." Colbert responds, "Bert." Russert asks, "B-E-R-T. So why aren't you Col-bert?" Looking at this footage, Colbert comments, "This supposedly objective interview show was clearly brought to you by the letter T."

July 29, 2008

---

Colbert covers New York's 14th Congressional District in his recurring "Better Know A District" series. Colbert comments, "The district extends across the East River into Queens, home of Kaufman Astoria Studios, where Sesame Street is filmed," at which point a picture of the cast is shown. Stephen continues, "Due to rising property values, Oscar the Grouch now sublets his garbage can for $4,000 a month" (accompanied by a picture of a couple living in the can).

September 2, 2008

---

In reference to Colbert's months-long challenge to his viewers to make John McCain interesting by manipulating his image against a green background, the show's teaser provides a title screen that reads "It's Not Easy Being Greenscreened."

September 25, 2008

---

In response to claims made by both John McCain and Barack Obama that they represent the "party of Roosevelt" (Franklin Delano Roosevelt was a Democrat, Theodore Roosevelt a Republican), Colbert sets out to decide which was the greatest Roosevelt. After examining each man's credentials and coming up with a tie, Colbert declares his own personal favorite the winner: Roosevelt Franklin, who he describes as "Sesame Street's borderline racist Muppet from the 1970s." As an example of his oratorical skills, a clip is played of Roosevelt Franklin leading his class in a recitation about loud and soft. Colbert submits that the character "is the Roosevelt for our times: for he represents blue states and red states, in that he's purple."

October 16, 2008

---

Marking the show's third anniversary, Colbert lists meeting Cookie Monster among his greatest achievements of the past year. In archival footage taken at the Smithsonian Institution from his original coverage in January, Colbert attempts to get Brent Glass to add a portrait of Colbert to the Smithsonian's collection. In footage not shown in the previous segment, standing in front of a Kermit the Frog puppet in the Smithsonian's collection, Colbert asks, "My portrait has been on television, and so has Kermit. So do you begin to see the value of having my portrait in here?"

October 22, 2008

---

Commenting on John McCain and Sarah Palin's personification of the middle class as personalities with children's character-like names such as "Joe the Plumber," Colbert quips, "These are the people in your neighborhood. They're the people that you meet when you're walking down the street. They're the people that you meet each day."

October 30, 2008

---

Deciphering his own word association code to determine the outcome of the upcoming presidential election, an image of Guy Smiley is used to connect "white guy" and "smiley face."

November 3, 2008

---

In a list of Winners and Losers throughout the 2008 presidential campaign, Colbert declares Numbers as a big winner, citing that they've been used everywhere in the media. A montage of clips follow in which candidates and news reporters use numbers to back up their facts. The last three clips are from Sesame Street, ending with the Count at the beginning of Episode 0666. A still shot of The Two-Headed Monster follows as Colbert states, "Clearly Sesame Street had the most balanced of election coverage. Their lead anchor really gave equal time to left and right."

January 15, 2009

---

In a retrospective of George W. Bush's relationship with the press, after commenting on the revelation that reporter Jeff Gannon was both a planted reporter and a former gay escort, Colbert comments, "Unfortunately, some people in the Press Corps weren't puppets, they just looked like them- like Helen Thomas, long-time lover of both Statler and Waldorf. One of the freakiest three-ways imaginable."

February 4, 2009

---

During the segment "Who's Not Honoring Me Now", Colbert complains about the second place winner of the Bocuse d'Or cooking competition, Jonas Lundgren of Sweden. Colbert then shows a clip of Lundgren, which is footage of the Swedish Chef singing his theme on The Muppet Show. "I don't even think that's Swedish," remarks Colbert.

February 12, 2009

---

Playing word association to predict the winners of the Oscars, Colbert uses Oscar the Grouch to connect Oscar Wilde with trash cans.

February 23, 2009

---

Oscar is again referenced in the teaser for Colbert's Academy Awards coverage.

April 28, 2009

---

In the segment "Who's Not Honoring Me Now?," Stephen chastises the Pulitzer Prize Committee who awarded Steve Reich for his 2007 composition "Double Sextet." After listening to a sample, Colbert says, "That is what I call head-banger music; in that it was clearly written by someone banging their head against a piano. I believe we have footage of Mr. Reich composing." A clip follows of Don Music exclaiming "I'll never get it!" as Reich's piece substitutes the sound effects from Music's head striking the keyboard.

May 5, 2009

---

When describing Ronald Reagan's nominee Robert Bork for Supreme Court Justice in 1987, Colbert calls the vetting process history's gold standard. It included "a fiery speech by Ted Kennedy, an anti-Bork commercial narrated by Gregory Peck, and this scathing editorial..." A clip of The Swedish Chef on The Muppet Show follows with captions for Chef's dialogue as he sings his theme. "A far-right originalist has been nominated for the Supreme Court. He must be stopped. His name is Bork! Bork! Bork!" Colbert remarks, "Poor guy never knew what Borked him."

May 20, 2009

---

Promoting DonorsChoose.org, Colbert goes through a list of schools around the country who need various types of school supplies. Mrs. G in Texas is asking for an "Elmo Visual Presenter" to enhance their multimedia learning. Colbert: "Now, for your information, the Elmo Company has nothing to do with Elmo from Sesame Street. And just so there's no more confusion, I suggest they change their name to the Multimedia United Projection Plan for Education and Teachers, or M.U.P.P.E.T. Should clear things right up."

Earlier in the show, Colbert remarks "House Speaker Nancy Pelosi is up to her Elmo-sized eyeballs in media guano over what she did or did not know about waterboarding."

June 1, 2009

---

The return of Guy Smiley as Mitt Romney is used in a piece about Chief Justice nominee Sonia Sotomayor. "You don't think his judgment and empathy were forged by long, hard days working at his family's mayonnaise farm?"

June 29, 2009

---

Discussing the census, Colbert states that we have to attack counting. "Counting uses Arabic numerals, and it is a known associate of vampires." A picture of Count von Count accompanies the statement.

July 1, 2009

---

Introducing Nick Kristof: "My guest tonight is a New York Times columnist who recently wrote about pollution causing genital mutations in frogs. Kermit's right, it's not easy being green."

July 27, 2009

---

Teasing the appearance later in the program of Swedish swing/rap band Movitz!, the screen's caption reads "Swedish Def."

August 5, 2009

---

An image of Guy Smiley is again used to illustrate Mitt Romney in a story suggesting that the former Massachusetts governor is still raising money for his Presidential campaign.

October 6, 2009

---

Covering a story about sperm banks that offer celebrity look-alikes, (including one option advertised as looking like Bill Gates, Bob Saget and Stephen Colbert), Colbert debuts his new line of Formula 401: A Star Is Born. It's his own man seed produced while he was doing impressions of celebrities. Amongst the list is Kermit the Frog.

October 8, 2009

---

Colbert: "Now, it's perfectly fair to attack Glenn [Beck] for what he believes, after all he's a public figure. Just like President Obama or Kermit the Frog." Four clips of Beck making a funny voice follow. "He's a fear-monger of a thousand voices. Well, two."

October 26, 2009

---

During an interview with Cornel West, Colbert responds to his eccentric conversational tone, "Why do I feel when you talk to me that I'm a puppet on Sesame Street? You're talking to me like I'm Elmo."

November 9, 2009

---

During the show's teaser: "Happy 40th Birthday, Sesame Street. That bird's not getting any bigger, I say we eat him now."

November 11, 2009

---

Colbert comments on the 40th anniversary of Sesame Street, which he refers to as "the most insidious socialist brainwashing program in our nation's history" and weighs in on the recent "POX News" joke controversy: "Personally, I wish my cable company carried POX News. They provide insightful coverage at my reading level...I would much rather my children watch opinionchicken Glenn Beak squawk about how President Barack Opossum wants to euthanize Big Bird and legalize Bert/Ernie marriage." Other clips in the five and a half minute segment include "Henson #3", Cookie Monster's appearance on The Colbert Report, Kermit and Joey, Cookie Monster's egg sandwich, Grover and Jesse on marriage, the Martians discover a book, Michelle Obama in Episode 4187, and the Boston Tea Party.

December 1, 2009

---

Responding to false congressional districts on recovery.gov, Colbert launches a spin-off of a regular segment, Better Know a Made-Up District. Featured is Connecticut's fictional 42nd district which is home to the city of Atlantis. Its mayor is Mr. Snuffleupagus who is having an affair with the Chupacabra.

December 2, 2009

---

Colbert suggests that certain drugs are being kept on the market because garbage has healing properties. "Why do you think Oscar the Grouch hasn't aged a day?" He uses that reasoning to launch a new product from Prescott Pharmaceuticals: Vaxa-Filth.

December 7, 2009

---

Colbert once again comments on recovery.gov and its made-up districts, responding to Obama's recovery head, G. Edward DeSeve, whose last name Colbert joked about by pronouncing as "deceive," to which DeSeve responded by calling Colbert "Stefan Colburt." Colbert responds that he will settle his dispute with DeSeve in the imaginary 65th district of Rhode Island "on the corner of Sesame Street and Electric Avenue at 13 o'clock February 30th."

January 9, 2010

---

Introducing guest George Stephanopoulos: "My guest tonight is, I believe, an imaginary pundit that only Big Bird can see." This is an allusion to Stephanopoulos's name sounding similar to that of Mr. Snuffleupagus.

March 10, 2010

---

Covering a sexual harassment scandal involving congressman Eric Massa, Colbert shows a clip of Massa commenting to Glenn Beck that he never groped male staffers, but once tickled a man "until he couldn't breathe" at a birthday party. Colbert comments, "Now, I know tickling a staffer sounds bad, until you get a look at the staffer"- Tickle Me Elmo. "I hear the guy was literally asking for it."

April 7, 2010

---

Colbert reveals a new brand of wine from childrens' franchise Hello Kitty. Determined not to allow the company to hold a monopoly on alcohol promoted by lovable childhood characters, he reveals bottles of Pino Grouchio, and The Count's Malt Liquor. Colbert then does an impression of Count von Count while lightning strikes and bats descend, "Get your drink on, bitches!"

September 23, 2010

---

Colbert, scheduled to testify in-character before Congress on Sept. 24, addresses skepticism from Fox News that doing so would be a waste of taxpayer money. He points out that Elmo appeared before Congress, and even wore a suit to do so, "unlike how he usually walks around: swingin' in the breeze. Incidentally, the carpet matches the drapes. Actually, it's all carpet."

November 4, 2010

---

Colbert criticizes Bert for allegedly slyly confirming his homosexuality in a tweet where he jokes that he is "a little more mo, a little less hawk," fearing a gay takeover of Sesame Street: "They look for a neighborhood that's a bit down on its luck, maybe has a little homeless problem...before you know it, bam, these are the people in your neighborhood!"

February 16, 2011

---

As an introduction to a bit on Japan's canceled whaling season, Stephen Colbert referenced Cookie Monster's healthy eating advice, stating: "Whale is a sometimes food. Much like Cookie Monster meat." A visual of what that meat might look like was displayed.

June 14, 2011

---

In a segment called "Close Sesame", Colbert takes Sesame Street to task for producing "For Me, For You, For Later", a video production about financial management. Objecting to the production's focus on saving money, he points out that "Sesame Street has always been about indulging your impulses. Whether it be going on a black-out cookie bender, or cackling maniacally about your uncontrollable OCD. You know, that could be managed with one... two... three doses of Paxil! Ah ah ah ah ah ah ah ah ah! Beautiful Paxil!" He then shows a clip from PBS NewsHour, which features financial correspondent Paul Solman talking with Grover about a famous child-psychology experiment regarding marshmallows and self-control. Colbert also shows the "Cookie Monster meat" picture again, though this time it's "Grover meat".

March 14, 2012

---

May 2, 2012

---

Colbert reports on a news item regarding a video that violated German advertising law. An actor playing the German ambassador to the United States appears wearing a Muppet Whatnot Workshop puppet.

June 8, 2012

---

The show's official Twitter feed tweeted:

June 12, 2012

---

Stephen gives a report on Sweden's official Twitter account. He demonstrates his Swedish skills by writing a tweet in Swedish - The Swedish Chef's theme song.

October 4, 2012

---

Stephen discusses the first presidential debate. He delves into Mitt Romney discussing PBS funding cuts, as Mitt Romney says "I love Big Bird and PBS. But I am not going to keep spending money on things [we have] to borrow money from China to pay for". In response, Colbert makes a joke referring to Count von Count, saying "That takes not just one ball, but two! Two balls!", as bats fly around the set.

November 13, 2012

---

In Stephen's usual "Tip of the Hat, Wag of the Finger", he discusses the Sesame Street sketch in Episode 4307 with Abby Cadabby and special guest Sonia Sotomayor. In the sketch, Abby talks about careers and how she wants to be a princess. Sotomayor tells Abby that a princess isn't really a career and so, Abby agrees. She changes her mind and decides that she wants to be a U.S. Supreme Court Justice like Sotomayor. Stephen then gives Sotomayor his "Wag of the Finger" for letting children who wanted to be princesses all over the world down.
Connections
Colbert's guest roster has included a range of people from the worlds of politics, entertainment, business, and elsewhere. Many of these guests have also worked with the Muppets on various occasions.
TV special A Colbert Christmas: The Greatest Gift of All! song "Much Worse Things" was nominated at the 61st Annual Primetime Emmy Awards, versus "I Wish I Could Be Santa Claus", from A Muppets Christmas: Letters to Santa. Both lost to Hugh Jackman's opening number at the 81st Annual Academy Awards.
External links
Sources