The Countess is the title held by Count von Count's lady friend on Sesame Street. In keeping with his numbers obsession, however, and as one of the only Sesame Street Muppets with an active love life, the Count has been involved with multiple countesses. The fact that each Countess uses the same pattern and resembles a feminized Count, and is generally listed as simply "The Countess" on albums.
The Countess von Numeral
The Countess von Numeral appears in Episode 0953 as a resident of Sesame Street who lives in an apartment upstairs from the drug store. Hailing from Transylvania, she possesses pointy ears and "delicate little fangs", and her obsession with counting is followed by a bell chime. Her fashion accessories include a monocle and a tiara.
Natasha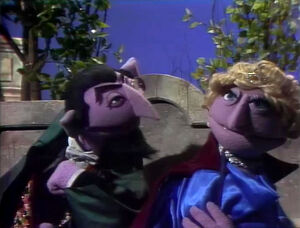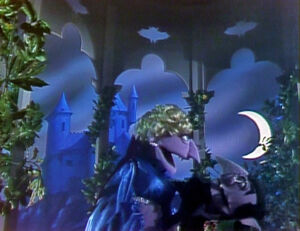 Natasha, who sports blonde hair and a dark blue dress, appears in Episode 1015 as the Count's lover. The couple count the number of times he's asked her to marry him. In this segment, Natasha is performed by Fran Brill.
She appears again in "Transylvania Love Call" which was first recorded for the album Love. Played by Richard Hunt, she's credited here simply as "The Countess", while subsequent albums designate her as "A Great and Good Friend". In the televised version of the song, which first appeared in Episode 1453, Hunt's vocals are redubbed by Brian Muehl. Again, she sports the same blue dress and blonde hair.
"The Countess"
"The Countess" appeared on Sesame Street into the 1990s, performed in various instances by Fran Brill and Camille Bonora. She sports the same blonde hair and blue dress in her earlier appearances, including the spoof "Twentysomething" (parodying Thirtysomething) and the Johnny Cash song "Don't Take Your Ones to Town."
Her hairstyle and wardrobe vary in later appearances, such as in the songs "Seven" and "I Could Have Counted All Night". Her mother also appeared in the latter song, which was later featured on the album The Count's Countdown (where she was identified again as "The Countess.") She also started appearing regularly in "The Number of the Day" sketches with the Count beginning in Season 36.[1]
The Countess appeared in The Furchester Hotel episode "The Count's Vacation," where it is stated the two are married. She was performed by Louise Gold in this appearance.
Illustrated Countess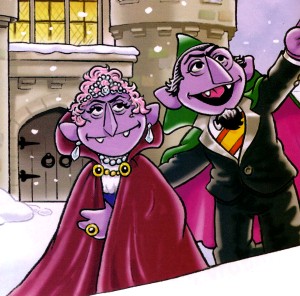 A pink-haired Countess appeared in the 2007 book Friendly, Frosty Monsters, counting snowflakes with the Count.
Book appearances
Sources
See also