This article is about an upcoming project, product, or production.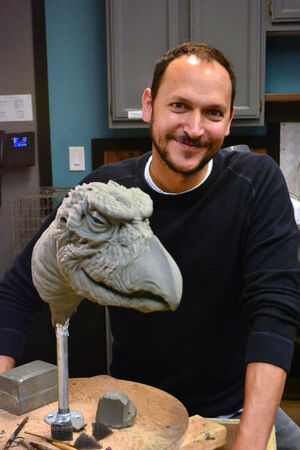 The Dark Crystal: Age of Resistance is an upcoming prequel series to The Dark Crystal. The ten-episode[1] series is set to debut on Netflix in 2019,[2] using all puppet creatures and no human characters.[3] The series follows twelve years of development on a sequel that failed to result in a film, Power of the Dark Crystal (which ultimately became a comic book series).
Plot
Variety reports the premise of the show:[1]
"

When three Gelfling discover the horrifying secret behind the Skeksis' power, they set out on an epic journey to ignite the fires of rebellion and save their world.

"
The Netflix title page for the series adds the additional detail of the inclusion of a "cruel emperor" as part of the cast of characters:[2]
"

In this prequel to the fantasy classic, three young Gelflings inspire a rebellion against the cruel emperor when they discover a horrifying secret.

"
Production
Louis Leterrier (The Incredible Hulk, Now You See Me) will serve as director and executive producer for the series. Lisa Henson is also slated to executive produce. The writing team consists of Jeffrey Addiss, Will Matthews, and Javier Grillo-Marxuach (Lost, The 100), who all also serve as co-executive producers.
Filming on the project started in November 2017 under the supervision of Lisa Henson and Halle Stanford.[4] Principal photography wrapped in London during the last week of September 2018,[3] which will be followed by a long period of post-production.
In November of 2018, Film Music Reporter revealed that Daniel Pemberton (Black Mirror, Spider-Man: Into the Spider-Verse) and Samuel Sim (Diana: Her Story, PBS' Frontline) had been tapped to score the series.[5]
Tie-ins
Four books written by J.M. Lee serve as tie-ins to the story told in Age of Resistance. Additionally, The Art and Making of The Dark Crystal: Age of Resistance chronicles a behind-the-scenes look into the making of the series.
Cast
Puppeteers
Other puppeteers include Warrick Brownlow-Pike, Dave Chapman, Kevin Clash, Damian Farrell, Louise Gold, Helena Smee, Kat Smee, Olly Taylor and Victor Yerrid.[6]
Voices
Taron Egerton as Rian
Anya Taylor Joy as Brea
Nathalie Emmanuel as Deet
Voice actors for other Gelfling characters include Caitriona Balfe, Helena Bonham Carter, Harris Dickinson, Natalie Dormer, Eddie Izzard, Theo James, Toby Jones, Shazad Latif, Gugu Mbatha-Raw, Mark Strong, and Alicia Vikander.
Voice actors for the Skeksis and Mystics include Harvey Fierstein, Mark Hamill, Ralph Ineson, Jason Isaacs, Keegan-Michael Key, Olafur Darri Olafsson, Simon Pegg, and Andy Samberg.
Additional characters will be voiced by puppeteers Alice Dinnean, Louise Gold, Neil Sterenberg, and Victor Yerrid.[7]
Sources
↑ 1.0 1.1 Variety "Dark Crystal Prequel Series in the Works at Netflix" by Joe Otterson, May 18, 2017
↑ 3.0 3.1 New York Comic Con panel, October 5, 2018
↑ Bleeding Cool "Brian Henson Talks ... at Dragon Con" by Mary Anne Butler, September 5, 2018
↑ Film Music Reporter "Daniel Pemberton & Samuel Sim to Score Netflix's The Dark Crystal: Age of Resistance" November 16, 2018
↑ "Netflix announces voice cast & debuts first look at The Dark Crystal: Age of Resistance." Netflix Media Center. December 17, 2018
External links