The Dark Crystal: Age of Resistance is a prequel series to The Dark Crystal. The ten-episode[1] series debuted on Netflix on August 30, 2019,[2] using all puppet creatures and no human characters.[3] The series follows twelve years of development on a sequel that failed to result in a film, Power of the Dark Crystal (which ultimately became a comic book series).
On September 21, 2020, it was announced the series will not be renewed for a second season.[4]
Plot
Variety reports the premise of the show:[1]
The Netflix title page for the series adds the additional detail of the inclusion of a "cruel emperor" as part of the cast of characters:[2]
Production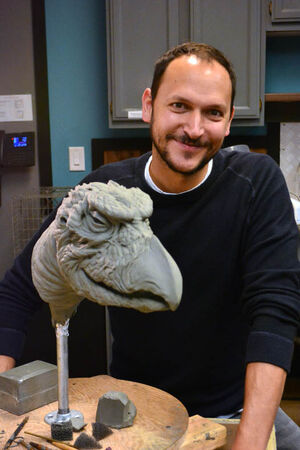 Louis Leterrier (The Incredible Hulk, Now You See Me) served as director and executive producer for the series. Lisa Henson is also executive producer. The writing team consists of Jeffrey Addiss, Will Matthews, and Javier Grillo-Marxuach, who all also serve as co-executive producers.
Filming on the project started in November 2017 under the supervision of Lisa Henson and Halle Stanford.[5] Principal photography wrapped in London during the last week of September 2018,[3] which was followed by a long period of post-production.
In November of 2018, Film Music Reporter revealed that Daniel Pemberton (Black Mirror, Spider-Man: Into the Spider-Verse) and Samuel Sim (Diana: Her Story, PBS' Frontline) had been tapped to score the series.[6]
A feature-length documentary, The Crystal Calls, was released accompanying the series and showing a behind the scenes look at the development and production of the series.
Posters
Tie-ins
Four books written by J.M. Lee serve as an alternate take on the story of Age of Resistance, focused on the adventures of Naia, Kylan and Tavra, but as this book series began several years before the show's release, the two series diverge from each other in a number of ways. Additionally, The Art and Making of The Dark Crystal: Age of Resistance chronicles a behind-the-scenes look into the making of the series.
A 12-issue comic book miniseries of the same name was released on September 25, 2019. It takes place before the Netflix series, divided into three four-issue arcs exploring backstories of select characters.[7]
Cast
Alice Dinnean, Beccy Henderson and Neil Sterenberg puppeteer the lead roles of Brea, Deet, and Rian and also perform other recurring roles. Other puppeteers of principal and recurring characters include Kevin Clash (puppet captain), Dave Chapman (1st assistant puppet captain), Warrick Brownlow-Pike (2nd assistant puppet captain), Louise Gold, Victor Yerrid, Helena Smee, Olly Taylor, Damian Farrell, and Dave Goelz. Kat Smee is credited as Core Puppeteer and identified by the Jim Henson Company as working on several major characters mainly performed by others.[8] Additional puppeteers include Derek Arnold, Don Austen, William Banyard, Amber Beattie, Daisy Beattie, Sue Beattie, Mikey Brett, Lynn Robertson Bruce, Sarah Burgess, Tim Cherry-Jones, Sheila Clark, and Richard Coombs.
Trailers
Gallery
Photos
Screenshots
Marketing
Sources
External links
seejane.org "A Pillar of Inclusive Entertainment" by Mary Ellen Holden