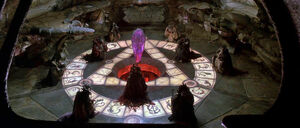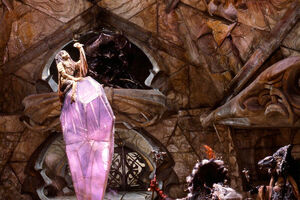 The Dark Crystal is the titular object in the movie The Dark Crystal and the driving force in its events. One thousand years ago, it was the Pure Crystal, but when the UrSkeks accidentally split themselves, one of the resulting Skeksis struck the crystal, causing a Crystal Shard to fly out of it and throw the world of Thra off balance.
Situated at the center of the Castle of the Crystal's Crystal Chamber, the Dark Crystal hovers above a shaft that leads to the Lake of Fire. In the Castle's roof above the Crystal is a triangular hatch that can be opened to observe the movements of the triple suns, and for the suns to shine down on the Crystal.
The Dark Crystal has several magical powers, including slowing the aging process of the Skeksis during the Ceremony of the Sun and draining essence.
At the end of the film, the missing shard was reunited with the crystal, and it became the Pure Crystal again.
Community content is available under
CC-BY-SA
unless otherwise noted.