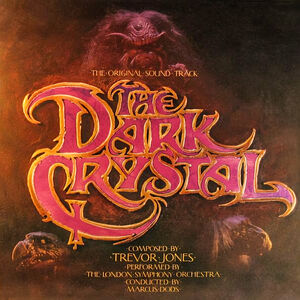 The Dark Crystal: The Original Sound Track features Trevor Jones' musical score written for the film, arranged specifically for an album listening experience. It was originally released with a fold-out poster of Brian Froud's artwork. The album reached #204 on Billboard's "Bubbling Under the Top LP's" chart.
In 2007, the original LP was reissued on CD, with the title of The Dark Crystal: The 25th Anniversary Soundtrack, featuring remastered tracks. The CD release comes with an 8-page booklet containing exclusive liner notes.
This album was also reissued on compact disc as a 2-CD set, with one disc featuring the LP version of the score, and the other disc featuring the score as heard in the film.
Track listing
Side One
Overture
The Power Ceremony
The Storm
The Mystic Master Dies
The Funerals: Jen's Journey
The Skeksis Duel
The Pod Dance
Side Two
Love Theme
Gelfling Song
The Gelfling Ruins
The Landstrider Journey
The Great Conjunction
Finale
Other releases
4-23749 (Warner Bros. cassette)
See also