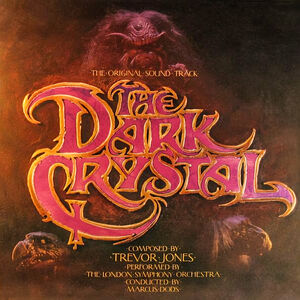 The Dark Crystal: The Original Sound Track features Trevor Jones' musical score written for the film, arranged specifically for an album listening experience. It was originally released with a fold-out poster of Brian Froud's artwork. The album reached #204 on Billboard's "Bubbling Under the Top LP's" chart.
This album was later reissued on compact disc as a 2-CD set, coupled with the music as recorded for and heard in the final soundtrack mix. Another CD was later released, with the title of The Dark Crystal: 25th Anniversary Edition Soundtrack.
Track listing
Side One
Overture
The Power Ceremony
The Storm
The Mystic Master Dies
The Funerals: Jen's Journey
The Skeksis Duel
The Pod Dance
Side Two
Love Theme
Gelfling Song
The Gelfling Ruins
The Landstrider Journey
The Great Conjunction
Finale
Other releases
4-23749 (Warner Bros. cassette)
See also
Community content is available under
CC-BY-SA
unless otherwise noted.