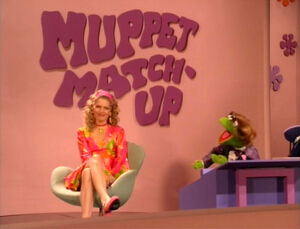 The Dating Game was a game show which first aired on ABC in 1965, produced by Chuck Barris. Beginning in 1973, the show entered syndication, and repeats continue to air today.
Celebrities occasionally appeared on the show, including Groucho Marx, and many then unknowns appeared as well, including Burt Reynolds and Farrah Fawcett. Herb Alpert and the Tijuana Brass provided many of the musical cues for the show.
The show was spoofed as "Muppet Match-up" on episode 101 of Muppets Tonight. Hosted by Kermit the Frog in "1975", Michelle Pfeiffer was a guest on the show (identified as "Michelle Pfieffer Manowitz" by Kermit), choosing between three bachelors - Bunsen Honeydew, Beaker, and Animal.
In Dating Game style, Pfeiffer says she loves a man with a good sense of humor, and proceeds to ask each bachelor in turn for their idea of a fun date. Bunsen suggests a scientific date at his lab. Beaker meeps something unintelligible, which Michelle thinks is sick, not funny. When Animal is asked for his idea of a fun date, he gets to his feet, and runs towards Pfeiffer yelling, "Michelle! Michelle!", causing Pfeiffer to flee, screaming.
After showing the clip Michelle explains to Clifford that she ended up dating Animal, but she hasn't seen him in years, and wonders if he's changed. He hasn't. At that moment, he appears on stage, and chases Pfeiffer off, screaming her name.
The show's format was also spoofed in an early Sesame Street game show sketch "Pick Your Pet," where a blindfolded contestant (Lucy Jones) questions each of the three animal hopefuls and chooses one of them as her pet. The show was more explicitly parodied in a later sketch as "The Eating Game," where a plate has to decide between three foods to take to dinner.
Connections
Community content is available under
CC-BY-SA
unless otherwise noted.