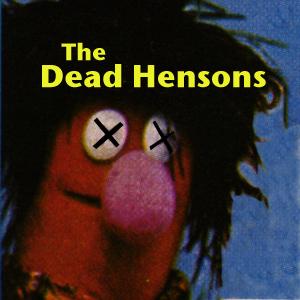 The Dead Hensons were an eight-piece San Francisco Bay Area Jim Henson tribute band that played music from various Henson projects, but primarily Sesame Street, The Muppet Show, and The Muppet Movie. The band has also covered songs from The Electric Company.
The band name is a play on the Dead Kennedys, a San Francisco Bay Area punk band that formed in the late 1970s.
The band released a 7-inch record with professionally recorded versions of "Pinball Number Count," "Riverbottom Nightmare Band," "The Lonely N," and "The First Day of School."
They have also recorded bootleg and live versions of other Muppet-related songs including "Between," "Can You Picture That?" "Candy Man," "Eleven," "Exit," "Ladybug Picnic," "Movin' Right Along," "Rainbow Connection," and "Subway."
Due to changes of address among members, the band gave its farewell performance at the Bottom of the Hill on December 4, 2009. The special double setlist included "Mr. Bassman," "Jellyman Kelly," "I'm Going to Go Back There Someday," and "A Bear Eats Bear Food."
External links