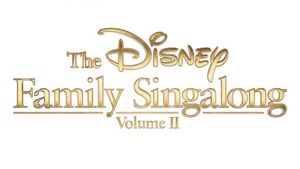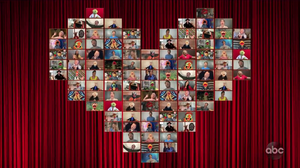 The Disney Family Singalong: Volume II is a sing-along special that aired on ABC on May 10, 2020. The special is a follow-up to The Disney Family Singalong, a special in which celebrities perform sing-along versions of Disney songs from their homes amid the COVID-19 pandemic.
The special began with a short scene between Kermit the Frog and Seth Rogen before segueing into a special version of "The Muppet Show Theme" with the Muppets and celebrity guests featured in the special. Muppet characters included Miss Piggy, Janice, Fozzie Bear, Gonzo, Rowlf the Dog, Statler and Waldorf, Animal, Walter, Zoot, Dr. Bunsen Honeydew, Floyd Pepper, Dr. Teeth, the Swedish Chef, Chip, Pepe the King Prawn, Beaker, Scooter, Rizzo the Rat, and Robin the Frog.
In a later scene, Miss Piggy talks about the importance of staying at home, reasoning that her hair still looks good despite not being able to get her hair done.
Other special guests include Idina Menzel, Ben Platt, Anika Noni Rose, Katy Perry, John Legend, Jennifer Hudson, Billy Eichner, Donald Glover, Josh Gad, and Lang Lang.
The six main Muppet performers (Bill Barretta, Dave Goelz, David Rudman, Eric Jacobson, Matt Vogel and Peter Linz) were credited as "The Muppets Puppeteers" for this appearance, along with Jack Vogel (Matt Vogel's son).
See also