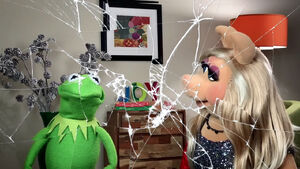 The Disney Holiday Singalong is a sing-along special that aired on ABC on November 30, 2020. The special is a follow-up to The Disney Family Singalong specials in which celebrities perform sing-along versions of Disney songs from their homes amid the COVID-19 pandemic.
Kermit the Frog and Miss Piggy appeared in the special to lead the viewers in a vocal warmup. Miss Piggy's attempt at singing the scales cracks the camera lens. (YouTube) Additionally, clips from A Muppets Christmas: Letters to Santa were featured in the montages of Disney characters celebrating the holidays that played during some of the other performances.
Hosted by Ryan Seacrest, other guests include Andrea Bocelli, Michael Bublé, Ciara, Katy Perry, and Kerry Washington.
See also