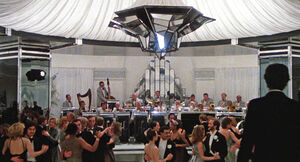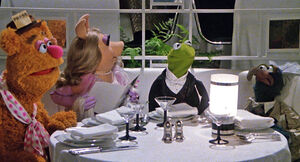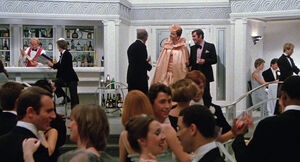 The Dubonnet Club is an upscale London supper club in The Great Muppet Caper. Kermit the Frog and Miss Piggy, under the alias of "Lady Holiday," go there for their date (with Fozzie Bear and Gonzo in tow). The menu consists of such typically fashionable items as caviar, champagne (which, with enough sugar, tastes just like ginger ale), and a steak which costs as much as an Oldsmobile. Their ketchup has a tendency to stain cummerbunds, however. Apart from Kermit and friends, other patrons include the real Lady Holiday (who appears to be a frequent visitor), Nicky Holiday, and at one table, Jim Henson and Amy Van Gilder. The headwaiter is named Stanley.
The club's most notable feature, however, is its spacious dance floor, located beneath a glittering chandelier. An elegant dance band plays ballroom music. Miss Piggy in particular takes advantage of the floor, dancing elegantly with Kermit (and also catching the eye of Nicky), while singing "The First Time It Happens." Joined by a male human chorus in top hats and tails, the song becomes an elaborate Busby Berkeley-style number. Something else happens for the second time at the Dubonnet Club, however: Lady Holiday's necklace is stolen, the second attempt on her jewels.
Neville, the owner of No. 17 Highbrow Street, recommends the Dubonnet Club when Miss Piggy asks for the name of a good restaurant. As his wife Dorcas points out, however, the Dubonnet Club is more of a supper club than a restaurant.