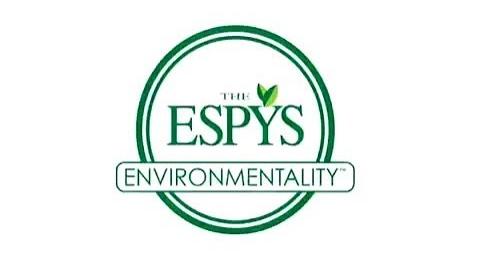 The ESPYs are the awards show for the ESPN sports network. In 2008, the Muppets participated in several short segments which aired live at the ESPYs to promote environmental awareness. The segments were directed by Brian Ades and produced by MRB Productions, Inc

Spots
Image
Description

Kermit the Frog
Kermit the Frog works as a bartender, serving drinks to Shawne Merriman and Cobi Jones, who are admiring a woman from across the room. Jones asks Kermit if he's okay, since he looks a little green. Kermit replies, "Haven't you heard? The ESPYs are green." He goes on to explain how everything at the ESPYs party are all biodegradable and come from renewable materials.

Miss Piggy
Miss Piggy helps Olympic swimmer Amanda Beard with her makeup -- covering her with white powder. They're interrupted by Dr. Bunsen Honeydew and Beaker, who replace the lights in the room with energy-saving incandescent bulbs. Amanda is impressed -- she looks even better under the new bulbs. She blows them kisses as she leaves.

Fozzie Bear
Kansas City Chiefs tight end Tony Gonzalez finds Fozzie Bear in the locker room, replacing the shower heads with water-conserving sockets. Gonzalez is happy to help -- until Fozzie calls Kermit over to meet Gonzalez, introducing him as Kobe Bryant. Kermit tries to correct Fozzie, who then thinks that the football player is Tom Brady: "I loved you in The Brady Bunch!" Gonzalez walks away, sarcastically referring to Fozzie as "Smokey the Bear". Watching him go, Fozzie wonders who "Smokey Bear" is. Kermit says he thinks he plays for the Raiders. "Oh," Fozzie says, following Kermit out. "Who are the Raiders?"
Community content is available under
CC-BY-SA
unless otherwise noted.