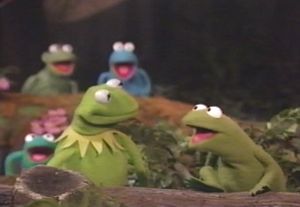 The Earth Day Special aired on ABC on April 22, 1990. Sponsored by Time Warner, the two hour special featured an all-star cast addressing concerns about global warming, deforestation, and other environmental ills. The episodic narrative, consisting of several individual skits threaded together, focused on an ailing Mother Earth (played by Bette Midler), who falls from the sky and faints, and is rushed to the hospital (attended by Neil Patrick Harris as Doogie Howser, James Brolin, and Dana Delany). Several cut-aways are made to famous fictional characters watching events unfold, and discussing what can be done to save the planet.
One such skit featured the Muppets; Kermit the Frog and Robin, surrounded by other frogs and animals in a devastated swamp, watch the broadcast, and discuss how the polluting ways of mankind harm animal life and lead to extinction. Puppeteers included Jim Henson (Kermit), Jerry Nelson (Robin), Dave Goelz (as an elderly frog), Kevin Clash (as an alligator), and David Rudman (as an iguana). The segment was personally directed by Jim Henson, and written by Jerry Juhl and Bill Prady.
Other celebrities in the cast included Dan Aykroyd, Candice Bergen (as Murphy Brown), Bugs Bunny, Chevy Chase, Rodney Dangerfield (as Dr. Vinny Boombatz), Geena Davis (as a Dating Game contestant), Danny DeVito and Rhea Perlman (watching the show at home), E.T., Morgan Freeman (as a newspaper editor), Heavy D, Dustin Hoffman (as Every Lawyer), Michael Keaton (as a repentant polluter), Queen Latifah, Jack Lemmon (as a coach), Christopher Lloyd (as Doc Brown), Rick Moranis, Harold Ramis (as Wastebuster Elong Spengler), Dr. Carl Sagan (explaining the practical science of the situation), Martin Short (as his SNL character Nathan Thurm), Meryl Streep (as a concerned citizen), Alex Trebek, Robin Williams (as Everyman), and the full casts of Cheers (including Ted Danson, George Wendt, and Kelsey Grammer), The Cosby Show (Bill Cosby, Lisa Bonet, Malcolm-Jamal Warner, Tempestt Bledsoe, Keshia Knight Pulliam, and Raven-Symoné), The Golden Girls (including Betty White), and Married... with Children (including Ed O'Neill).
While Jim Henson directed the Muppet segment, Dwight Hemion was the lead director for the program.
Transcript
See also