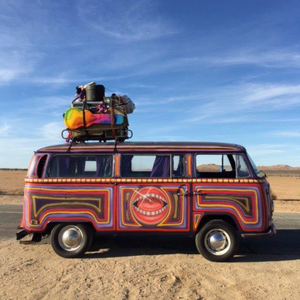 The Electric Mayhem Van debuted in The Muppets episode "The Ex-Factor." This psychedelic colored Volkswagen Microbus belongs to The Electric Mayhem, and is generally driven by Dr. Teeth.
According to production notes for The Muppets:
"

Dr. Teeth and the Electic Mayhem have been touring since 1975, and their school bus imploded somewhere in Montana last year, so they needed a new mode of transport that was consistent with their vibe. The classic VW Microbus, with cosmic paint job and groovy interior, was the logical choice." [1]

"
In addition to a road-worthy van, second van was decorated and the undercarriage and floor were moved to allow the puppeteers and crew to work at the necessary heights.[2]
The band later was shown driving in a pre-taped segment for the 2016 Outside Lands Music and Arts Festival. It was also seen in a 2018 Barclaycard advertisement and in an episode of "Carpool Karaoke: The Series."
An early incarnation of the van appeared in the "Food Fight!" Muppisode as the Muppets' source of transportation. The van had a more generic look, though painted colorfully and marked with flowers and the words "PEACE" and "LOVE."
See also
Sources
Community content is available under
CC-BY-SA
unless otherwise noted.