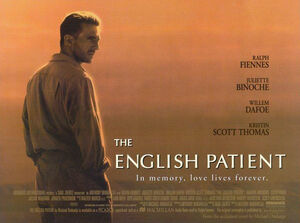 | | |
| --- | --- |
| Released | 1996 |
| Duration | 160 min |
| Director | Anthony Minghella |
| Written by | Michael Ondaatje (novel), Anthony Minghella (screenplay) |
| Studio | Miramax |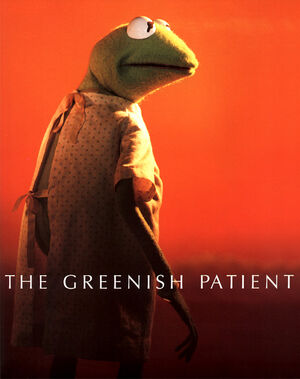 The English Patient is an Academy Award-winning film adaptation of the novel by Michael Ondaatje, written and directed by Henson veteran Anthony Minghella. The story focuses on a burn victim (Ralph Fiennes), identified only as the "English patient," who is treated by nurse Hana (Juliette Binoche) in a villa near the end of World War II. His past, as archeologist Count Laszlo de Almásy, is revealed in flashbacks, including his romance with a colleague's wife. Subplots involve Caravaggio (Willem Dafoe), a former intelligent operative who knew Almásy in the past, and Hana's romance with Indian sapper Kip.
For the film's physical effects, Minghella sought out Jim Henson's Creature Shop, based on his experiences with them on The StoryTeller and Living with Dinosaurs. Working from initial make-up designs by Fabrizio Sforza, the Creature Shop provided make-up effects for the film, creating an 11 piece foam prosthetic worn by Ralph Fiennes to depict the map-like burn scars on Count de Almásy's face. White hair was also attached, and silicone ears used. They also supplied false forearms and hands for Caravaggio, whose thumbs have been cut off. The Creature Shop built an animatronic tortoise, who is befriended by Hana in the original script, but the animal was cut from Minghella's final draft and never appeared onscreen.[1]
The film won Academy Awards for Best Picture, Best Director (Minghella), Best Supporting Actress (Binoche), Best Original Dramatic Music Score, Best Costume Design, Best Art Direction/Set Decoration, Best Cinematography, Best Film Editing, and Best Sound. Nominations were given for Best Actor (Fiennes), Best Actress (Kristin Scott Thomas), and Best Writing (Minghella again). The movie also received a BAFTA Award nomination for Best Makeup/Hair, credited to Fabrizio Sforza and Creature Shop artist Nigel Booth.
Cast
Ralph Fiennes as Count Laszlo de Almásy
Juliette Binoche as Hana
Willem Dafoe as David Caravaggio
Kristin Scott Thomas as Katharine Clifton
Naveen Andrews as Kip
Colin Firth as Geoffrey Clifton
Julian Wadham as Madox
Jürgen Prochnow as Major Muller
Kevin Whately as Sergeant Hardy
Clive Merrison as Fenelon-Barnes
Nino Castelnuovo as D'Agostino
Hichem Rostom as Fouad
Peter Rühring as Bermann
Raymond Coulthard as Rupert Douglas
Jim Henson's Creature Shop
Visual Supervisor: John Stephenson
Creative Project Supervisor: Neal Scanlan
Production Supervisor: Karen Cassie
English Patient prosthetic make-up: Nigel Booth
Sculptors: Jeremy Hunt, Graham High
Artwork: Marion Appleton
Animatronic Design: Vincent Abbott, Jason Reed, Andy Roberts
Fabrication: Sam Broadbent, Tamzine Hanks, Louisa Jordan, Esteban Mendoza
Hair Design: Val Jones
Mold Design Supervisor: Kenny Wilson
Moldmakers: Barry Fowler, Terry Sibley, Mel Coleman, Terry James
Chargehand: Dave Kelly
Foam Department: Marie Fraser, Karina Randall, Adrian Getley, Andy Lees
Silicone Department: Kelly Sant
Optician: Chris Edmond
Make-up gallery
References
Sources
↑ Bacon, Matt. No Strings Attached. pgs 180-181
External links