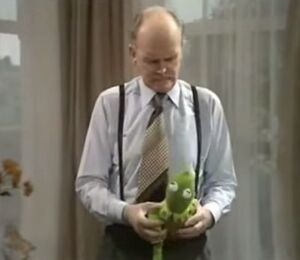 The Fall and Rise of Reginald Perrin is a BBC sitcom which ran for three series from 1976 to 1979, focusing on the title character's midlife crisis. Reggie Perrin, a disaffected sales exec, fakes his death to escape his routine life; further escapist efforts followed in later arcs. The series relied heavily on catch phrases, notably stuffy boss CJ saying "I didn't get where I am today by..." The show spawned a 1996 sequel, a short-lived 1983 American version, and a remake (Reggie Perrin).
Muppet Mentions
In the second episode of series 3, CJ (assigned to babysit the group's children) takes a plush Kermit the Frog out of his trousers. He gripes, "I didn't get where I am today by having green frogs thrust down my crotch!" He tosses the toy to Reggie, who then drops it into his wife Elizabeth's lap. Kermit bounces to the floor, but Elizabeth picks the frog up and holds him for the rest of the scene.
Connections
Community content is available under
CC-BY-SA
unless otherwise noted.