DEBUT
2014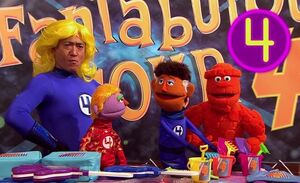 The Fantabulous Four are a number superhero team who appear in a season 45 episode of Sesame Street. The four are parody Muppets of Marvel's Fantastic Four. Although featured only briefly in the broadcast episode (in a picture taken with Elmo), they play a larger role in the extended version on the Elmo's Super Numbers DVD.
Elmo wants to get a picture with the Fantabulous Four as part of his Numeri-Con plan. However, after Leela takes a picture of the group with two monsters (their biggest fan and their smallest fan), Disappearing Girl, well, disappears. (As the Human Torch counterpart explains, she's camera shy). The fans are distraught, as they are left with only three out of four.
Elmo and Leela persuade Alan (who had not dressed up for Numeri-Con) to fill in for Disappearing Girl (wearing a costume and blonde wig). Alan feels ridiculous, but agrees to help for the sake of the math. Once again, the Dark Nine (Elmo) has proven himself a number hero.
The other members of the group are not named, but the rocky Thing counterpart (performed by John Kennedy) utters variations of the comic character's "It's clobberin' time" catchphrase ("It's posin' time!" and "It's countin' time.") David Rudman performed the Mister Fantastic parody Muppet (made from a Pumpkin Anything Muppet). Lavender Anything patterns were used for Disappearing Girl and the Human Torch parody (Eric Jacobson).
Community content is available under
CC-BY-SA
unless otherwise noted.