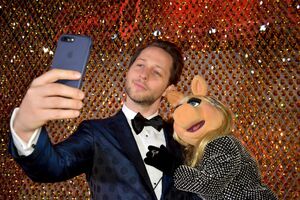 The Fashion Awards are an annual award ceremony held in the United Kingdom since 1989. The ceremony is to celebrate British and international individual and businesses contributions to the fashion industry over the past year.
For the December 4, 2017 ceremony, Swarovski chose Miss Piggy and fashion editor and CNN Style host Derek Blasberg to co-host their red carpet pre-show, which was livestreamed on Facebook.
On December 1st, leading up to the event, Swarovski posted a video on YouTube showing Miss Piggy, in her London hotel room, worrying about what she's going to wear. She falls asleep and dreams about fashion mishaps involving famous red-carpet outfits, including Björk's swan dress and Jennifer Lopez's low-cut green Versace dress. At the end of the video, she wakes up and knows who to call.
Vogue Paris then broke the news that Miss Piggy contacted editor-in-chief Emmanuelle Alt, who suggested a bespoke Saint Laurent by Anthony Vaccarello gown, decorated with 10,000 Swarovski crystals.[1]
Throughout the livestream, Piggy and Blasberg made a game of having interviewees guess how many crystals were in her dress.
Among their guests throughout the hour were Dame Natalie Massenet, Matty Bovan, Susanne Bisovsky, Giovanna Battaglia Engelbert, Nadja Swarovski, Bianca Jagger, Erdem Moralıoğlu, Hailey Baldwin, Zendaya, Rita Ora, Alexa Chung and Arizona Muse. Throughout the night many guests asked about Kermit, to which Blasberg would give a bemused reply informing them that he and Piggy are there on a date. ("Kermit's out, I'm in.")
Sources
External links