PERFORMER
various
DEBUT
1986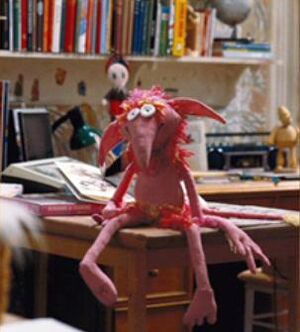 The Fireys are a group of creatures encountered by Sarah in Labyrinth. Lanky beasts with flaming red pelts, the hedonistic creatures are devoted to having a good time, which includes removing their limbs, heads, and other body parts to use as items in their games. Befitting their name, they are capable of producing fires from their hands. Their approach to life is explained in the song "Chilly Down." Though not malicious, the Fireys prove to be unintentionally dangerous to Sarah because they want to take off her head and play with it, not understanding that her head doesn't detach and reattach like theirs, or that it isn't survivable to her like it is to them. Hoggle helps her escape from them by throwing a rope down a rockface for her to climb.
Fireys also appear in the manga sequel Return to Labyrinth; notably, Hana steals a Firey's hand in order to melt the ice in which Moulin has been imprisoned by Esker in the castle at the center of the Labyrinth.
Behind the Scenes
The creatures were performed by a team of puppeteers, draped in black, operating the movements through rods and other devices, some of which were attached to the feet. The scenes, choreographed by Charles Augins (who also voiced one of the group), were then matted into film of the forest.
The characters were initially designed by Brian Froud, and according to Inside the Labyrinth, it was Terry Jones' idea to have them literally "lift" their heads according to the song lyrics. The Creature Shop team who built the group consisted of Sherry Amott, Nik Williams, Amy Cook, Mavis Taylor, Cheryl Henson, Jane Gootnick, Susie Carter, Alison Dark, Ricky Eyres, Graeme Galvin, Ron Mueck, Ginette St. Clair Ruthven, and Mikki Labangudgeirsdottir.
Names
The movie's voice and puppetry credits refer to the characters as "the Fireys." In the song "Chilly Down," they call themselves "the Fire Gang." The Creature Shop portion of the film's credits refer to the group as "the Chilly Downs."