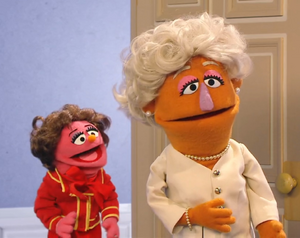 The First Lady appears in the "Elmo the Musical" segment, "President the Musical."
She first appears during the opening number, affirming that there's never been a President of the United States like newcomer Elmo. Velvet blushes, not knowing Elmo was married in the story. Elmo points out her title is derived from the fact that she's the first lady to walk through the door. They're joined by the Second and Third Lady, who assist him in singing about counting orders. Following the song, they find the First Lady has been kidnapped, along with other firsts.
All the ladies are modeled after real-life first ladies. The First Lady's design is based on Michelle Obama, the Second Lady's on Nancy Reagan, and the Third Lady's on Barbara Bush.
See also