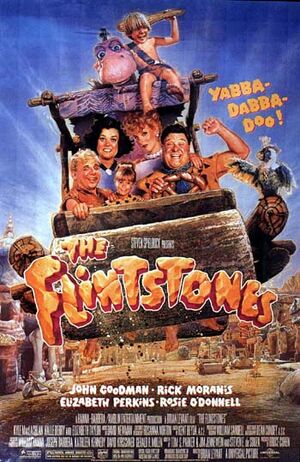 | | |
| --- | --- |
| Released | 1994 |
| Duration | 91 minutes |
| Director | Brian Levant |
| Written by | Tom S. Parker, Jim Jennewein, Steven E. de Souza |
| Music | David Newman |
| Studio | Universal Studios |
| Rated | PG |
The Flintstones, released in 1994, is a film adaptation of the popular Hanna-Barbera cartoon series of the same name.
Jim Henson's Creature Shop supplied a menagerie of animatronic prehistoric beasts, notably featured characters Dino and the Dictabird (voiced by Harvey Korman, who had played Gazoo on the original cartoon). Other creations included Fred's brontocrane, the pigasaurus garbage disposal, and other (often cranky) animal appliances.
The Creature Shop also provided effects for the follow-up film in 2000, The Flintstones in Viva Rock Vegas.
Cast
Creature Shop credits
Supervisor for Jim Henson's Creature Shop: John Stephenson
Production supervisor: William Plant
Creative supervisor: Jamie Courtier
Puppeteers: Anthony Asbury, Terri Hardin, Andrew Massey, Joe Selph, David Forman, John Crawford, Len Levitt, Richard Morton, Greg Ballora, Lynette Leigh Johnson, Robert Tygner, John Alexander, Jeff Himmel, Richard Bernard, Lisa Aimee Sturz
Principal designers: Kevin O'Boyle, Nigel Booth
Sculptors: Nigel Booth, Mark Coulier, John Cormican, Carol De Jong, Chris Fitzgerald, Alix Hardwood, Graham High, Jeremy Hunt, Ivan Manzella, Linsay McGowan, Kevin O'Boyle, Gary Pollard, Colin Shulver, Barry Sutton
Engineering supervisor: Geoff Paige
Mechanical design supervisors: Verner Gresty (Bronto), Chris Barton (Dino)
Mechanics: Richard Darwin, Simon Donaldson, David Dunsterville, Malcolm Evans, Richard Gregory, Jez Harris, Simon Hewitt, Chris Howes, Jamie Jackson-Moore, Tim Jordan, Paul Knowles, Jim Machin, Adrian Parrish, Richard Pirkis, Jason Reed, Martin Reid, Joe Scott, Robert Thorne, Ian Whittaker, Brian Wood
Electronics supervisor: Quentin Plant
Technicians: Pete Bell, Chuck Fettyko, Cheryl Fettyko
Hair and feathers: Vicky Stockwell, Val Jones, Kate Studley, Tacy Kneale, Sue Oakes
Puppet makers: Darryl Worbey, Maria Boggi, Janet Knechtal, Alan Murphy, Robert Skidmore
Costumes: Monique Brown, Fiona Cazaly, Shirley Cooper, Daria Gibson, Sheila Hallett, Amanda Hardy, Richard Johnston, Brian North, Nicholas Millington, Nicola Tedman, Lesley Ward
External links
Community content is available under
CC-BY-SA
unless otherwise noted.