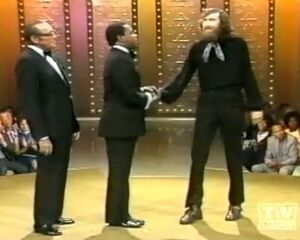 The Flip Wilson Show was hosted by comedian Flip Wilson and ran from 1970 to 1974 on NBC, as one of the many variety shows in the 1970s.
The Muppets appeared on four episodes, including three specifically with Sesame Street characters or actors. The show was an hour in length, but later cable syndication airings (beginning with TV Land in 1997) trimmed it to a half hour. These same versions were used for DVD releases (with the exception of one 2007 set), with the result that many of the Muppet scenes (and other bits and guests) were cut entirely.
Tim Kiley directed the series (including all of the Muppet episodes) while writers included Herbert Baker (later co-writer of John Denver & the Muppets: A Christmas Together) and future Muppet Show writer Don Hinkley.

Appearances
Image
Description




Episode #1, September 17, 1970

In the show's premiere, a tie-clad Big Bird appeared as a guest, stumbling over trash cans before presenting himself. He's encountered an unusually long word, leading to a performance of "ABC-DEF-GHI" (as superimposed letters appear) and dancing with Flip (who tells him the word can mean anything he wants it to mean). Flip ends up falling when the music is done. Big Bird says to him: "Are you alright, Mr. Wilson?!", to which Flip says: "This equal opportunity is killing me!". In a scene cut from syndication, Flip also met Oscar the Grouch, performing a duet of "I Love Trash."[1]

Kermit Love was also flown from New York to Los Angeles as the puppet handler, for this and the October 15 episode. In fact, the later episode was actually taped first, followed by the briefer Muppet material for the premiere, within a two week period in August.[2] The street set is recognizably the same in both episodes (and the stage itself was painted a different color for these scenes, apparent when compared with the other skits in the premiere).




Episode #5, October 15, 1970

Big Bird, Oscar the Grouch, and Loretta Long all appeared, in an episode actually taped before the September episode. According to Caroll Spinney's book The Wisdom of Big Bird, this was the very first time a green Oscar puppet appeared on TV. In his book, Spinney also describes a rare event connected to this appearance: Big Bird's unexpected on-screen fall during his entrance. The premise has Flip and guests Raymond Burr and Stanley Myron Handleman trying to find their way to Sesame Street (while the refrain from theme song is played multiple times). Loretta Long is greeted by Flip as herself, although he notes she plays Susan and "helps run the place." Long guides them (although Stanley is more interested in finding good deli food), along with singing group Sunday's Child (who croon more of the theme). However, "any street can be Sesame Street" so they just circle the stage and find a few set changes, like the street sign. Big Bird enters, stumbling over trash cans again.

The first draft, final draft, and revised scripts are all available in the Hal Goodman papers, UCLA Library Special Collections, Performing Arts.




Episode #35, November 11, 1971

The Muppets perform Java. Kermit pretends to be an enchanted Flip Wilson in order to be kissed by Diahann Carroll. In a bar, Dom Deluise and Flip talk to a drunk Muppet called Marcus Welby, performed by Frank Oz.[2] In the same episode, Flip gave faces to two Muppets (performed by Jim Henson and Frank Oz) in a bit similar to Gordon's interaction with the Anything Muppets in the first episode of Sesame Street. As in that episode, the group sings "Consider Yourself." Both the "Java" and bar skits were cut from syndication.

Episode #53, September 14, 1972

Bert and Ernie perform "Clink, Clank" -- Bert sings, while Ernie and Flip do the sound effects. Other skits in this episode (cut from syndication) were "Dancing Frogs" and "Ballroom."[3] At the end of the episode, while sharing the stage with guest Jack Benny, Flip invites Jim Henson to come out in person, which he does briefly and silently. The episode was taped in August, 1972 but aired as the third season premiere.[2] Don Hinkley was one of the episode's writers.
References
One of Wilson's recurring characters on the series was Geraldine, whose catchphrase was "the devil made me do it" and which entered the popular vernacular for a time. Miss Piggy quotes the line in the January 08, 1982 edition of The Muppets comic strip.
Sources