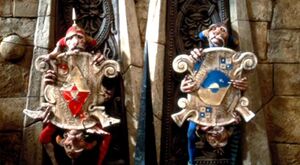 The Four Guards were featured in the movie Labyrinth. They stood guard in front of two doors. One of the doors would lead to the castle at the center of the Labyrinth, while the other door would lead to "Babababum certain death". The bottom two guards were clueless as to which door leads where. The top two guards were the only ones who knew the answer.
The Four Guards were given a set of rules about the information they held. Two of these rules, meant for the top two guards, were revealed in the film. Only one of the guards could be asked about the door. Supposedly one always tells the truth and the other always lies, though the pair naturally dissent about which is the honest one.
Sarah tries to solve this situation by asking one of the guards a question to which both guards would give the same answer, namely if the other guard would say that the door she chose is the correct one. The answer is, "Yes", so the other door is supposedly the correct one. If the guard is the honest one, he would truthfully say that the lying guard would tell her to go through the wrong door, and if the guard is the lying one, he would untruthfully say that the honest guard would tell her to go through the wrong door. Although Sarah's logic is correct, she falls into the oubliette after declaring the Labyrinth "a piece of cake".
In the real world, the challenge represented by the guards is called a Knights and Knaves problem.
The novelization refers to these characters as Alph and Ralph and Jim and Tim, and the fabrication credits group the guards under Alph and Ralph.
The guards were puppeteered by Steve Whitmire, Kevin Clash, Anthony Asbury, and Dave Goelz, with the voices of Anthony Jackson, Douglas Blackwell, David Shaughnessy, and Timothy Bateson. The Creature Shop fabrication team consisted of Cheryl Henson, Ricky Eyres, Rollie Krewson, Polly Smith, Bernard Kramer, and Geoff Paige.
After having been part of the Center for Puppetry Arts exhibit Jim Henson: Wonders from His Workshop since 2008, the Four Guards became part of the center's permanent Worlds of Puppetry exhibit in 2015.
Community content is available under
CC-BY-SA
unless otherwise noted.