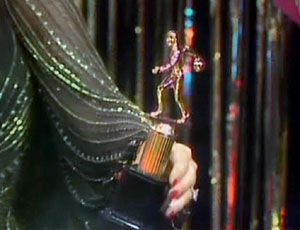 The Fred Award is a bowling trophy presented at the first annual Muppet Awards in The Muppet Show episode 412. It is awarded by the Muppet Academy of Arts and Sciences.
The award bears the inscription "Poughkeepsie Barons, 1977 League Champions".
Nominees
Best Unexplainable Creature:
Best Performance by an Inanimate Object or Group of Inanimate Objects:
Best Comedy Performance by a Bear:
Best Guest Star Appearance:
All of the guest stars from the previous 83 episodes are nominated (as well as three guests from later episodes, and Señor Wences from the next season!)
(officially nominated for the episode "Pig Alien," but after some dispute, the cast chooses "Strangepork Takes Up Disco")
Winners
Trivia
Kirk Thatcher, the host of the first day of Muppetfest, brought his Emmy Award onstage in order to show it off. On the second day, host Craig Shemin brought his bowling trophy onstage, claiming that it was a prestigious Fred Award. The "Fred" was later given away to a fan as a prize for answering a trivia question.