Premiere
September 26, 2014
Network
BBC
Episodes
103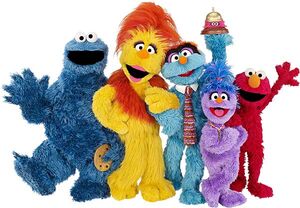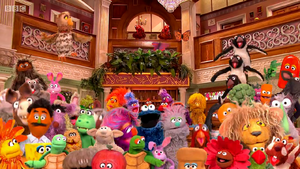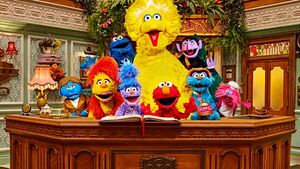 The Furchester Hotel is a Sesame Street co-production for CBeebies (BBC's preschool network), first shown September 26, 2014.
Set in the titular hotel, the series stars a monster family that runs the hotel: father Furgus Fuzz, mother Funella Furchester and daughter Phoebe Furchester-Fuzz. Elmo appears in the series as Phoebe's cousin, who is taking an extended stay at the hotel due to his fascination with it. Cookie Monster appears as the room-service and dining room waiter. Also appearing is Isabell, a character with a bell in her head for the guests to ring.
The series promotes problem solving, as the monsters try to figure out issues developed by their unique Muppet guests. Fifty-two, 11-minute episodes were produced beginning in February 2014 MediaCityUK in Salford.
Beginning in November 2014, full episodes began being posted weekly to SesameStreet's YouTube Channel and Sesame Go. In January 2015, episodes were made available for purchase in the iTunes Store. A Norwegian dub of the show, Fagerpels Hotell, debuted in May 2015. In August 2015, a Spanish dub was included in the Plaza Sésamo spin-off, Sesame Amigos.
In February 2016, it was announced that a second season of the series was commissioned to start taping in May. The season consists of 50 episodes (as well as a double-length Christmas special) and features guest appearances by Big Bird, Count von Count and the Martians.[1] The season premiered on October 31.
Episodes
Credits
Developed By and Lead Writer: Belinda Ward
Educational Consultants: Rosemarie T. Truglio, Autumn Zitani, Professor Anna Craft, Jessica DeSalvo
Composers and Musical Directors: Andrew Blythe and Marten Joustra
Directors: Jack Jameson and Helen Scott
Writers: Molly Boylan, Steve Cannon, Ian Carney, Chris Chantler, Simon Davies, Christine Ferraro, Michael Goldberg, Katherine Jakeways, Andrew Jones, Stuart Kenworthy, Emma Millions, Davey Moore, Ciaran Murtagh, George Poles, Howard Read, Luis Santeiro, Kathy Waugh
Puppet Captain: Mak Wilson (Season 1), Andy Heath (Season 2)
Puppeteers:
Assistant Puppeteers:
Family Puppet Designer: Ed Christie
Executive Producers: Carol-Lynn Parente and Tony Reed
See also
Sources
External links