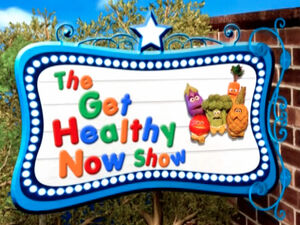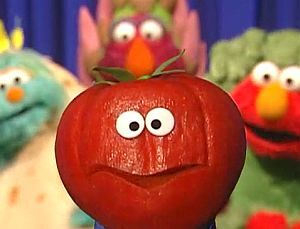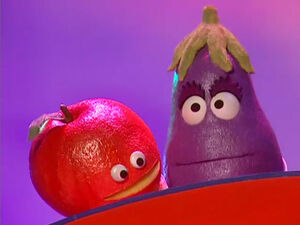 The Get Healthy Now Show is a 24-minute resource video special produced by Sesame Workshop in 2007. In the video, Elmo, Telly Monster, and Rosita present a variety show emphasizing healthy eating habits and exercise.
Complications arise when special guest performer the Big Tomato is running late. Substitute acts include the Fruit and Veggie Five, Rosita's "Sometime, Anytime Food Game," and Count von Count and a group of Anything Muppets demonstrating the way to maintain a healthy heart.
The Sesame Street monsters wear costumes for the big finale -- Elmo dresses as broccoli, Telly as asparagus, and Rosita as a tortilla. The Big Tomato finally arrives for the finale.
In October 2007, the video was made available as a free download from the iTunes Store as part of the Learn Along with Sesame series. The video is also viewable on Sesame Workshop's website.
Notes
In the finale, the monsters are wearing their costumes from Prairie Dawn's Healthy Food Pageant in episode 4122, which aired in 2006.
Frankie, a Muppet caricature of long-time Sesame cameraman Frank Biondo, appears in the background as a stagehand.
Credits
Starring the Muppets of Sesame Street
Associate Director: Frank Campagna
Music Composed and Arranged by: Russell Velazquez
Lyrics: Russell Velazquez
Senior Muppet Consultant: Kevin Clash
Jim Henson's Puppet Workshop: Jason Weber, Rollie Krewson, Polly Smith, Michelle Hickey, Andrea Detwiler, Anney McKilligan, Marc Borders, Alana De Matteo
Outreach and Educational Practices for Sesame Workshop: Jeanette Betancourt, Ed.D.
Control Room Production Assistant: Mindy Fila
Camera: Frank Biondo, Jerry Cancel, Rob Deane
Location Cast: Arrazza Family, Carelli Family, Crespo Family, Czarnecka Family, Delgado Family, Jeon Family, Levine Family, Lopez Family, McFadden Family, Moon Family, Munoz Family, Nolan Family, Pipher Family, Ruiz Family, Ryer Family, Spadone Family, Webster Family, Williams Family
Community content is available under
CC-BY-SA
unless otherwise noted.