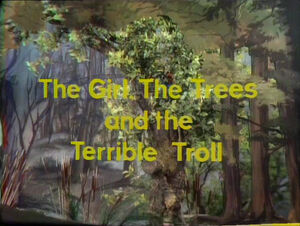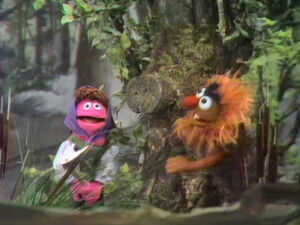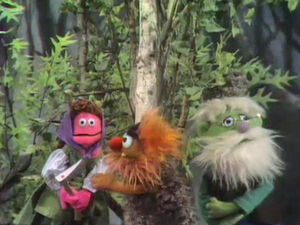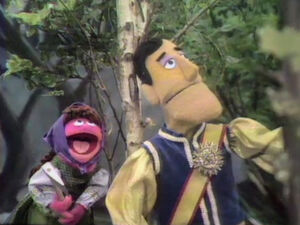 The Girl, the Trees and the Terrible Troll is a three-part Sesame Street fairy tale with an ecological theme, first aired in season three in Episode 0307.
In the first part of the story, an old mother sends her young daughter off into the woods near their cottage to chop down a tree for firewood for the impending winter. As she approaches a tree, an "evil-looking and terrible troll" appears and encourages her to chop it down. She then hears the tearful pleas of a bluebird above, begging her not to chop down his home. The girl ponders what she should do as the story takes a break.
Part two begins as the girl decides not to take the troll's advice and refuses to chop the tree down. She happens upon another tree, where an old man is resting. He too asks her not to cut it down, citing it as the most beautiful tree to look at in the forrest and how it provides excellent shade on hot days. The troll tries to get her to cut it down, but the girl is still unsure.
In the final chapter, the girl again declines the troll's words and promises to leave the old man's tree alone. She finds yet another tree and observes nobody will lose anything from its absence, making it the perfect tree to cut down. The troll, watching this, suddenly turns into a magic prince. He explains that he was merely disguised and her good deed has earned her any one wish her heart desires. She then wishes for the prince to cut down the tree and bring it back to the cottage for her.
Cast
Notes
The bird puppet in the story is the same one used for Little Bird, but redressed with blue plumage.